KMT candidate urges COA transparency
PLAGIARISM ALLEGATIONS: The standards for government-commissioned research and academic papers should be different, Taoyuan candidate Simon Chang said
The Council of Agriculture (COA) should disclose all relevant information related to reports that allegedly contained plagiarized content, Chinese Nationalist Party (KMT) Taoyuan mayoral candidate Simon Chang (張善政) said yesterday, while the campaign team of Cheng Yun-peng (鄭運鵬), the Democratic Progressive Party's (DPP) candidate for Taoyuan, said Chang had failed to answer key questions of the allegations.
The council in 2007 commissioned Chang, at the time working for Acer, to write research reports and funded the research with a NT$57.36 million (US$1.82 million at the current exchange rate) grant.
Chang, who served as premier from February to May 2016, made the remarks during a news conference at his campaign headquarters.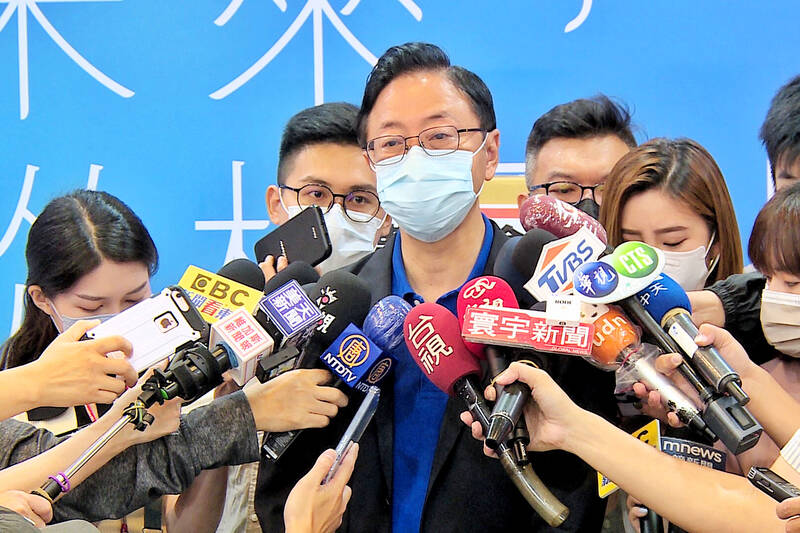 Chinese Nationalist Party (KMT) Taoyuan mayoral candidate Simon Chang speaks to reporters in Taoyuan yesterday.
Photo: CNA
He showed what he said was a nondisclosure agreement he signed with the council over the reports, saying that it prevented him from sharing any more details.
The research led to the application of radio-frequency identification, QR codes, and a production and sales platform for agricultural products, he said.
During the three-year project, his research team, featuring more than a dozen IT specialists, authored 21 reports on agricultural science and technology in Taiwan and other countries, wrote 12 online newsletters, held 14 seminars and panel discussions, and conducted eight projects that developed, planned and certified new information systems, Chang said.
No funding for the project went into his own pocket, he added.
"Such a research paper is not a thesis or a dissertation. It is a report that a private company is tasked to write by a government agency," Chang said. "One of the important goals for the project was to collect information in Taiwan and overseas. It is inappropriate to adopt a standard used to examine academic publications to scrutinize a commercial research report."
Chang said he is willing to work with Acer to explain how he fulfilled the contract with the council.
"We are asking the council to disclose all documents related to the three-year project, including the original proposal. This will give the public a full picture of the research team's achievements," Chang said. "Council officials and the DPP are focusing on a small problem with the project."
The council last week said the reports include a significant amount of content that also appeared in previously published materials, without the researchers providing citations.
It asked Chang and his previous employer to submit a written statement by Friday next week to react to its findings.
DPP Legislator Huang Shih-chieh (黃世杰), Cheng's campaign manager, said Chang's statements during the news conference showed that he has no remorse for his action.
The council has clearly identified several problems with the reports, but Chang continues evading questions and dismisses the allegations as "nitpicking," Huang said.
Comments will be moderated. Keep comments relevant to the article. Remarks containing abusive and obscene language, personal attacks of any kind or promotion will be removed and the user banned. Final decision will be at the discretion of the Taipei Times.