US trade talks to address China: minister
BAND TOGETHER: Democratic countries must work in solidarity to mitigate the effects of Beijing's punitive trade measures it uses as political retaliation, a government official said
How Taiwan and the US collaborate in response to China's weaponization of trade is one of the main topics officials are to discuss in the upcoming Taiwan-US Initiative on 21st-Century Trade talks, Minister Without Portfolio John Deng (鄧振中) said yesterday.
In an interview with the Liberty Times (sister paper of the Taipei Times), Deng said that China had used trade as a punitive measure against Lithuania and Canada.
He said that Beijing retaliated against the Canadian government's arrest of Huawei Technologies chief financial officer Meng Wanzhou (孟晚舟) in 2018 by banning imports of Canadian canola seeds.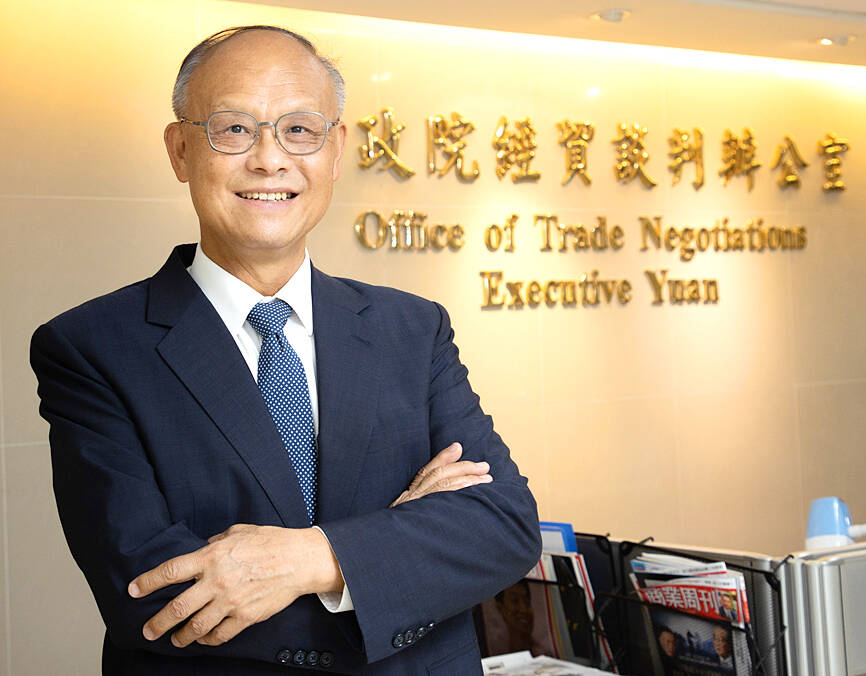 Minister Without Profile John Deng poses for a photograph at the Executive Yuan in Taipei on July 24.
Photo: CNA
In November last year, China canceled orders of Lithuanian cheese, other food and lumber, and removed the country from its customs list, blocking all goods from the eastern European nation, including alcohol, from clearing customs.
The move was in response to Lithuania allowing Taiwan to establish a representative office in Vilnius using the name of "Taiwan" instead of "Taipei," Deng said.
China on Aug. 12 also unilaterally terminated a China-Lithuania transportation cooperation agreement after Lithuanian Deputy Minister of Transport and Communications Agne Vaiciukeviciute's visit to Taiwan this month, he said.
Deng added that a US-China trade dispute — which started under former US president Donald Trump — shows no sign of ending.
Separately, a high-ranking government official, speaking on condition of anonymity, said that democratic countries threatened by Chinese bans on their goods as a form of political retaliation should work together to mitigate the effects of China's punitive measures.
The source said that the Chinese government often imposes restrictions on trade based on political reasons, not economic ones.
The source cited Chinese bans on imports of Taiwanese pineapples, custard apples and groupers as examples of China weaponizing trade to intimidate the nation.
Beijing's irrational acts of economic retaliation against democratic countries — and the severe ramifications they pose — are being carefully watched by the international community, the source said.
The Taiwanese delegation is next month to meet with their US counterparts for the Taiwan-US Initiative on 21st-Century Trade talks, the most significant Taiwanese trade negotiation of the past two decades involving foreign countries.
Comments will be moderated. Keep comments relevant to the article. Remarks containing abusive and obscene language, personal attacks of any kind or promotion will be removed and the user banned. Final decision will be at the discretion of the Taipei Times.