US rules not enough: analysts
TEMPERED EXPECTATIONS: Although analysts welcomed the updated guidance from Washington, Taipei should push back on 'unnecessary' restrictions, they said
New US guidelines expanding official contacts with Taiwan might be a positive step, but Taipei should still try to break down limits on bilateral interactions that stem from Washington's "one China" policy, foreign affairs analysts said on Saturday.
On Friday, the US Department of State announced that it had issued new guidelines to "liberalize" government contacts with Taiwan, which it said were designed to "encourage engagement ... that reflects our deepening unofficial relationship."
Although not made public, the guidelines would reportedly allow US officials to meet with their Taiwanese counterparts in US federal buildings and at Taiwanese representative offices in the US, but prohibit them from attending celebrations of Double Ten National Day and other Taiwanese holidays.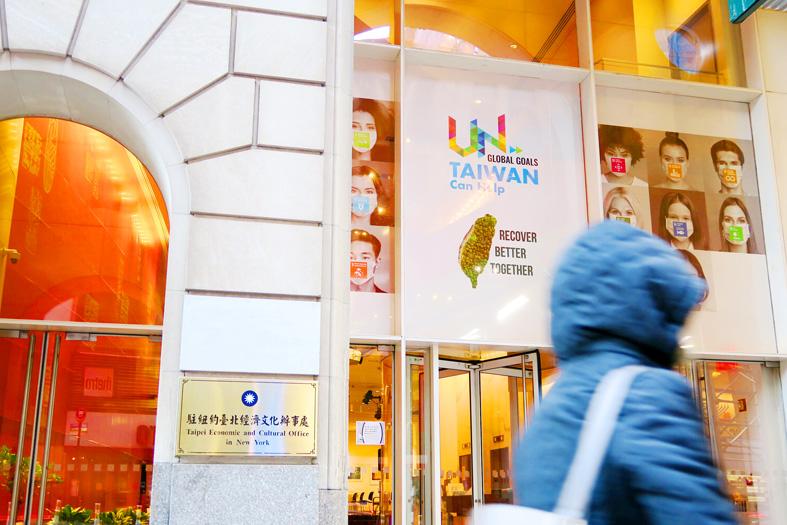 A pedestrian the entrance of the Taipei Economic and Cultural Office in New York on Feb. 20.
Photo: CNA
While these measures constitute "a big difference" from the past, when meetings between US and Taiwanese officials were often informal and low-key, the US' "one China" policy remains unchanged, said Yen Chen-shen (嚴震生), an adjunct researcher at National Chengchi University's Institute of International Relations.
Easing limits on official contacts with Taiwan would bolster US President Joe Biden's position in negotiations with China, Yen said.
Meanwhile, Taiwan must judge the new guidelines based on whether they lead to more high-level contact with the US, or whether they allow US officials to attend events at Taiwan's Twin Oaks estate in Washington, he said, referring to the former residence of Taiwanese ambassadors to the US, which is now used for official functions.
Democratic Progressive Party (DPP) Legislator Lo Chih-cheng (羅致政) said that regardless of the guidelines, Taiwan must continue to push back against "unnecessary" restrictions on interactions with the US, which stem from the US' "one China" policy.
The move by the US does highlight Taiwan's increasingly important role, from a political, military and economic standpoint, in the US' strategic approach to China and the Asia-Pacific region, he said.
Michael Kau (高英茂), who was deputy foreign minister under former DPP president Chen Shui-bian (陳水扁), said the announcement showed that the US was moving from a position of strategic ambiguity to clarity in its approach to Taiwan, amid the emerging state of "superpower competition" with China.
Chinese Nationalist Party (KMT) Deputy Secretary-General Huang Kwei-bo (黃奎博) said the new guidelines were an attempt to expand contacts with Taiwan, while leaving in place restrictions related to sensitive issues, such as sovereignty.
This two-pronged approach reflects Washington's desire to strengthen ties with Taipei, but in a way that does not act as a barrier to relations with China, he said.
While Taiwan welcomed the changes, it is unclear how much of a departure they represent from the policy set by former US secretary of state Mike Pompeo in the final days of the administration of former US president Donald Trump.
Pompeo verbally lifted nearly all restrictions on official contacts with Taiwan.
A diplomatic source on Friday said that while Pompeo and US Secretary of State Antony Blinken favor expanding engagement with Taiwan, the Biden administration wanted some form of written guidance in place, as some federal officials had expressed uncertainty about what kinds of interactions were permitted.
Comments will be moderated. Keep comments relevant to the article. Remarks containing abusive and obscene language, personal attacks of any kind or promotion will be removed and the user banned. Final decision will be at the discretion of the Taipei Times.