Hunting green iguanas could backfire: officials
The Changhua County Government on Friday cautioned against hunting green iguanas at risk of unintentionally expanding their territory, after a video went viral of a family shooting 41 of the lizards with a slingshot in a single day.
Wu Hsiao-chen (吳小珍) on Monday posted a video on YouTube of her husband and two sons hunting invasive green iguanas in the Erlin River (二林溪) basin.
Wu's husband in the video uses a slingshot to shoot the lizards. Once hit, their sons rush to collect them, using a fishing line attached to the slingshot projectile to reel them in.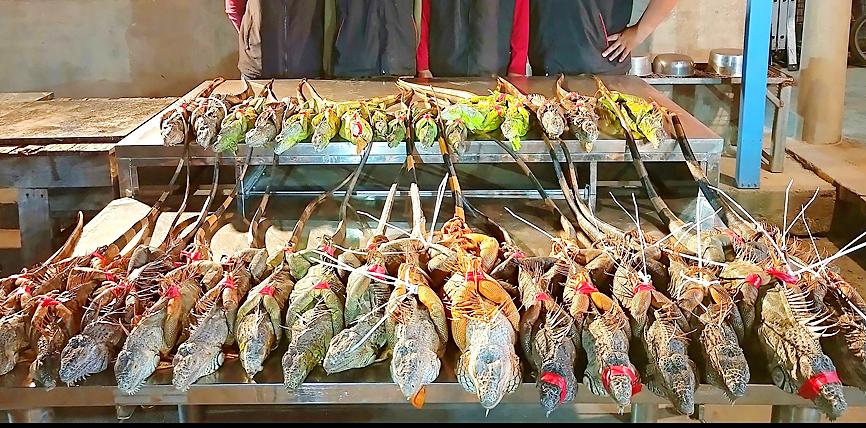 Green iguanas killed by a Changhua County family using slingshots are displayed on a table in a screen grab from a YouTube video posted on Monday.
Screen grab from YouTube
In the video, Wu tells viewers who want to join the effort to act humanely and bury captured iguanas in small groups to avoid affecting the environment.
As of yesterday morning, the video had been viewed more than 100,000 times, drawing hundreds of comments, many of which thanked the family for their environmental stewardship, praised their marksmanship and expressed shock at the pervasiveness of the animals.
Changhua County Department of Agriculture Director-General Chiu Yi-chih (邱奕志) confirmed that the family captured 41 iguanas in a day, but warned that the video does not accurately represent how difficult it is to hunt them.
The video only shows the successful shots, which could lead people to mistakenly believe that hunting them with a slingshot is easy, he said.
The estimated 400 to 500 green iguanas living in the Erlin River basin have been wreaking havoc on agriculture in the area, Chiu said.
Since enlisting the Wild Bird Society of Changhua to hunt the creatures two years ago, the department has been able to control their population, he said.
However, Chiu said he fears that an influx of novice hunters would scare the iguanas into expanding their territory, making population containment more difficult.
The population of green iguanas has exploded in the years since pet owners released them into the wild, leading local residents to nickname the area "Jurassic Park."
Green iguanas, also known as American iguanas, are primarily herbivores, and have been blamed for eating crops and crowding out smaller, native lizard species. Their burrows, often constructed near water sources, can erode irrigation canals, affecting farmers' livelihoods.
The lizards also often enter people's homes, leading residents to seek help from their local representatives, including former legislator Hung Tsung-yi (洪宗熠).
Hung was ridiculed in 2017 for asking the head of the Forestry Bureau if people could eat the iguanas, but the incident illustrated residents' detestation of the creatures.
The video has once again drawn public attention to Changhua's "Jurassic Park," with people asking if the hunter was able to make money from his efforts.
The man through a friend said that he has captured hundreds of iguanas since beginning to hunt them in April, but has not turned them in for any reward.
"I do not hunt iguanas for money," he said, adding that he deals with them in a similar fashion to the government.
The county government said that it disposes of green iguanas through thermal euthanasia and burial.
Additional reporting by CNA
Comments will be moderated. Keep comments relevant to the article. Remarks containing abusive and obscene language, personal attacks of any kind or promotion will be removed and the user banned. Final decision will be at the discretion of the Taipei Times.