Taipei to follow science on US imports: premier
CAUTION WARRANTED: Su Tseng-chang said Taiwan acts in its people's best interest and would not be 'sandwiched' by other nations as it seeks engagement
The government would let science be its guide when determining whether to allow imports of US pork and bovine intestines containing ractopamine to ensure that public health is safeguarded, Premier Su Tseng-chang (蘇貞昌) said yesterday.
Su made the remark when asked whether the ratification of the US' Taiwan Allies International Protection and Enhancement Initiative (TAIPEI) Act would affect the government's stance on the issue.
Citing Section 3 of the act, Chinese Nationalist Party (KMT) Legislator Lin Te-fu (林德福) asked Su how the government intends to respond to Washington's request that it lift the ban on pork and bovine intestines containing the leanness-enhancing agent, which would undoubtedly be a topic in upcoming Taiwan-US trade talks.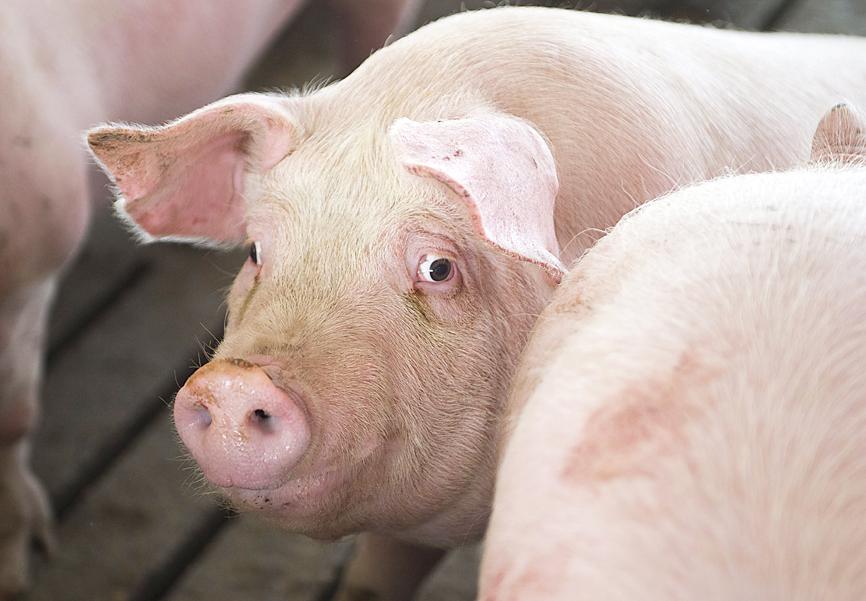 Pigs ready for market wait at a large farm in northern Iowa on April 4, 2018.
Photo: EPA-EFE
The section contains a clause that says: "The United States trade representative should consult with [the US] Congress on opportunities for further strengthening bilateral trade and economic relations between the United States and Taiwan."
The US is the world's largest economy and the nation most friendly toward Taiwan with which it has large trade volume, Su said.
The government hopes to expand trade with the US in a mutually advantageous manner, he said.
Regarding the importation of US pork and bovine intestines, Su said that the government has always approached the issue with the overarching principle of safeguarding public health by referring to international standards and scientific research.
Lin asked Su how the act would affect trade with China, as Beijing could opt to terminate the cross-strait Economic Cooperation Framework Agreement (ECFA) in June.
Trade with China is crucial for Taiwan, but just as the world has learned from the COVID-19 pandemic that it "should not put all its eggs in one basket," the government hopes to engage in mutually beneficial economic exchanges with the whole world, Su said.
As the nation has an annual trade surplus with China of about US$80 billion, the government must tread carefully and not allow Taiwan to become "sandwiched" between the US and China amid their power struggle, Lin said.
"Taiwan is a nation that acts in its people's best interest," Su said. "We will not be sandwiched by others. We hope to engage with the world in a mutually advantageous manner."
Comments will be moderated. Keep comments relevant to the article. Remarks containing abusive and obscene language, personal attacks of any kind or promotion will be removed and the user banned. Final decision will be at the discretion of the Taipei Times.