2020 Elections: Han, Soong, Tsai field media questions
PRESIDENTIAL DEABTE: Han Kuo-yu lashed out at 'Apple Daily,' saying its 'gossipy' news has broken up many families, yet it was too afraid to offend people in power
In the second segment of the televised presidential debate yesterday, each of the three candidates took questions from five media organizations.
The organizations were represented by Central News Agency (CNA) editor-in-chief Jay Chen (陳正杰), Liberty Times (the Taipei Times' sister newspaper) editor-in-chief Tzou Jiing-wen (鄒景雯), Apple Daily deputy editor-in-chief Tsai Jih-yun (蔡日雲), United Daily News editor-in-chief Fan Ling-jia (范凌嘉) and China Times deputy editor-in-chief Bai Der-hwa (白德華).
The China Times asked: "On Taiwan's big spending on weapons procurement in the past three years, and the indigenous defense industry program to build aircraft, submarines and warships, could it be throwing money into a bottomless pit? Which country is theoretically our main enemy, and which is our secondary enemy? How can Taiwan institute a national security policy that is pragmatic and effective?"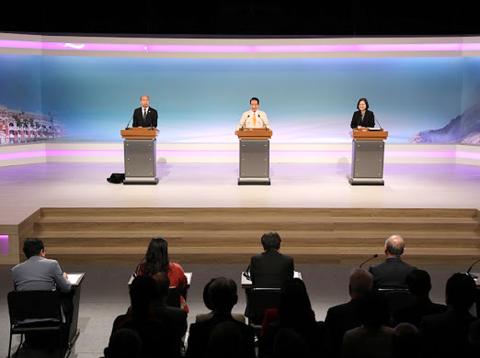 From left, presidential candidates Kaohsiung Mayor Han Kuo-yu, People First Party Chairman James Soong and President Tsai Ing-wen participate in a televised presidential debate in Taipei yesterday.
Photo courtesy of the Taipei Photojournalists Association
Kaohsiung Mayor Han Kuo-yu (韓國瑜), the Chinese Nationalist Party's (KMT) presidential candidate, said: "The main concept in national defense is that 'war has no winners, peace has no losers.' To avoid war is what a smart president would do... Taiwan faces a low birthrate, so we must develop uncrewed artificial intelligence weapons."
"We thank the US for supporting the Republic of China [ROC] to have a strong national defense. I would place importance on national defense, but would not follow the DPP's 'indigenous warships' program, which resulted in the Ching Fu Shipbuilding Co (慶富造船) case and lost Taiwanese taxpayers NT$32.5 billion [US$1.08 billion at the current exchange rate]," he said.
"President Tsai Ing-wen (蔡英文) has appointed many corrupt officials, it is not clean politics … but I will be different," Han said.
People First Party Chairman James Soong (宋楚瑜), who is also his party's presidential candidate, said that Taiwan must have the capability to build major weapons on its own, but would also need to procure weapons from other countries.
"However, we must know what we need, then develop on that, regarding indigenous building and foreign procurement programs," he said.
"Former president Ma Ying-jeou (馬英九) dealt a severe blow to our armed forces by abolishing laws governing the armed forces. When our troops have no discipline, how can they fight a war?" he added.
Tsai said that she had been the president most involved and who has given the most consideration to national defense issues.
"Regarding the indigenous building of submarines, it is under way, and we have to keep secret some things that we cannot report to the outside world," she said.
"Regarding other programs, we have made an original training aircraft, which has strengthened our defense capabilities, and also boosted economic development for central and southern Taiwan," Tsai said.
"No matter who the main enemy is, we must institute a comprehensive national defense plan to deter others from invading. The main focus is on asymmetrical warfare, with the concept implemented through all branches of the armed forces," she said.
The Apple Daily asked Han about his decision to run in the presidential election after having just been elected mayor and the allegations that he gave NT$6 million to a female friend to buy real estate.
It asked Tsai about the problems her administration encountered reforming labor law and factions within the DPP, and asked Soong whether would he would ever give up on this goal of becoming president, or whether is was just a way to extend the PFP's existence.
"Your question reflects that Apple Daily has no class as a media outlet... I talked ... about national development, a leader's abilities and the ROC's future. Yet, you asked me … about my private life. Why do you not ask me when I had my first girlfriend, and how many girlfriends I had before getting married?"
"When [owner] Jimmy Lai (黎智英) brought the Apple Daily to Taiwan, it led to 'fouling winds and bloody rains' for Taiwan's media environment. Its gossipy news has broken up many families, and has done so for many years. Are they going to ask at what age I was still a virgin? It is stale to vilify me and to spread rumors," Han said. "I am very disappointed."
"Why do you only focus on gossipy news about me, and not look at Tsai Ing-wen? Because you are afraid to offend people in power — you always have double standards," he added.
Regarding labor reform, Han said he would ensure that workers receive 60 percent of their wage if they are furloughed and would push for a labor pension scheme where 6 percent of contributions are covered by the employer, 3 percent by the government and 3 percent by employees.
He also promised to attract more business and foreign investment to invigorate Taiwan's economy.
Tsai said in the original reform proposal, the DPP wanted to enforce having the two weekend days off, but the KMT and other opposition parties had their own versions that prohibited overtime work during the two days off, so the DPP had to compromise with the "one day off, one flexible holiday" system.
Soong said the labor law reforms lacked proper consultation before being introduced by legislators, so he would review them if elected.
Responding to Han's attack against the media, Soong said Han should learn to understand and respect news and media firms.
The United Daily News asked about alleged poor governance by Tsai's administration regarding the results of the referendums from last year's local elections.
Han said that the DPP had interfered into the justice system, much more than KMT ever had.
"The DPP has become a very corrupt party, which controls the media, the justice system and reaches into the nation's treasury. DPP legislators push amendments in a rough-shod manner," Han said.
When the KMT did badly, it was ousted, so the DPP should be ousted in 2020," Han added.
Tsai said it was overstating the case to accuse the government of negating the results of the referendums.
"There were long lines, and other problems [during the elections], so we worked to treat the issue in reasonable ways, by de-linking [referendums and local elections], so the public referendum questions would no longer influence election results," she said.
Soong said that DPP did not follow the public's opinion on referendum questions, such as restarting nuclear power plants and same-sex marriage, and asked why the DPP government did not handle these issues in a proper way.
The CNA asked the candidates how they would improve ties with China without losing Beijing's respect for Taiwan's status.
Han responded by lashing out at the CNA "for being too narrow" with respect to Taiwan's status "by tying itself up with its own political ideology."
"It is more serious to betray our nation than to be corrupt. I have insisted on upholding the ROC's sovereignty and our government framework, so I have nothing to fear," he said.
Soong said that his basic stance is peaceful cross-strait relations, and upholding Taiwan's freedom and democratic values and systems.
The other side of the Taiwan Strait must face the existence of the ROC government, he said, adding that any change to Taiwan's "status quo" must be decided in a democratic way by its 23 million people.
Tsai said that she has been handling cross-strait relations with no provocation or hurry to allow for normal exchanges and not restrict them.
The problem lies with China using tourists and economic exchanges as political bargaining chips, she added, stressing the importance of safeguarding national sovereignty.
The Liberty Times asked Soong for his thoughts on his successes and failures over the past 20 years; Tsai about the one thing she most wishes to leave as her legacy; and Han about his views on the Hong Kong protests.
Soong said that Taiwan needs a strong leader and a disciplined team, particularly in the face of an ambitious China that is becoming increasingly stronger.
Tsai said that Taiwan's biggest challenge is an ambitious, expansionist China, and that Taiwan's sovereignty, democracy and freedoms are at risk of being weakened or destroyed.
Han said that Tsai was trying to brand him as a supporter of the "one country, two systems" formula like "squeezing a tube of toothpaste."
He said he supports the constitutional systems of the ROC, and there is no reason for anyone to smear him.
Additional reporting by Lin Liang-sheng and Su Yung-yao
Comments will be moderated. Keep comments relevant to the article. Remarks containing abusive and obscene language, personal attacks of any kind or promotion will be removed and the user banned. Final decision will be at the discretion of the Taipei Times.