China not trustworthy: ex-AIT director
TAIWAN-US FORUM: In a speech, the minister of transport and communications said that Taiwan would soon officially apply to join the US border preclearance system
"China is not to be trusted," former American Institute in Taiwan director Stephen Young said in Taipei yesterday, using Beijing's dealings with the pro-democracy protesters in Hong Kong as an example.
Young made the remark at a forum in Taipei on Taiwan-US relations hosted by the Taiwan Thinktank and the Washington-based Global Taiwan Institute.
Despite China's promise of a high degree of autonomy for Hong Kong for 50 years under the "one country, two systems" formula, the situation in Hong Kong over the past six months suggests a gradual collapse of autonomy, said Young, who served as US consul general to Hong Kong from 2010 to 2013.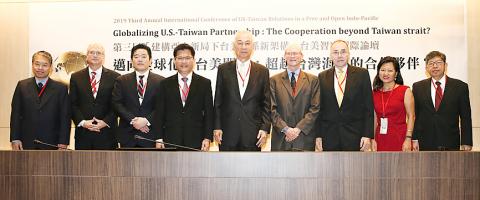 From left, Prospect Foundation president Lai I-chung, Project 2049 Institute executive director Mark Stokes, Global Taiwan Institute executive director Russell Hsiao, Minister of Transportation and Communications Lin Chia-lung, Taiwan Thinktank chairman Wu Rong-i, former American Institute in Taiwan director Stephen Young, former assistant secretary of defense for Asian and Pacific security affairs Lieutenant General Wallace Gregson, former Congressional Research Service researcher Shirley Kan and Institute of National Defense and Security chief executive Lin Cheng-yi pose for a photograph at the Third Annual International Conference of US-Taiwan Relations in a Free and Open Indo-Pacific in Taipei yesterday.
Photo: Fang Pin-chao, Taipei Times
Taiwan has an option, "unfortunately, Hong Kong has not," he said, in reference to China's "one country, two systems" model.
What happened in Hong Kong is a lesson for all that China is not to be trusted, he said, adding that Taiwanese could learn from the Hong Kong situation, despite China trying to convince them to feel easy about unifcation.
The US must stand on the side of democratic Taiwan as China seeks to marginalize it internationally, he said.
Meanwhile, in a keynote speech at the forum, Minister of Transportation and Communications Lin Chia-lung (林佳龍) said that the government would soon officially apply to join the US border preclearance system, to expedite entry for its citizens into the US.
The two countries have already exchanged letters of intent regarding a One-Stop Security arrangement, which recognizes security screening at Taoyuan International Airport so that checked luggage originating from there could be transferred to connecting flights in the US without having to be screened again, Lin said.
Taiwan is hoping to expand the arrangement to hand luggage before 2022, Lin said.
The US has approved Taiwan to join the preclearance system "in principle," and as soon as it provides the details of how to proceed, the government would make the application, he said.
According to US Customs and Border Protection (CBP), preclearance is the "strategic stationing of CBP law enforcement personnel overseas to inspect travelers prior to boarding US-bound flights."
The operation is meant to streamline border procedures, reduce congestion at US ports of entry and facilitate travel between preclearance locations and US ports unequipped to handle international travelers, according to the CBP.
The CBP has more than 600 law enforcement officers and agriculture specialists stationed at 15 preclearance airports in six countries, namely the Bahamas, Bermuda, Canada, Ireland, the United Arab Emirates and Aruba, a Caribbean constituent of the Netherlands.
Taiwan is part of the US Visa Waiver and Global Entry program, which allows for expedited entry into the US.
Comments will be moderated. Keep comments relevant to the article. Remarks containing abusive and obscene language, personal attacks of any kind or promotion will be removed and the user banned. Final decision will be at the discretion of the Taipei Times.