Tao protest, reject compensation for waste
Several members of the Tao Aboriginal community yesterday reiterated their decades-long demand that the government remove nuclear waste from Taitung County's Orchid Island (Lanyu, 蘭嶼), saying that they would not accept the NT$2.55 billion (US$83.57 million) in compensation President Tsai Ing-wen (蔡英文) promised in the run-up to the Jan. 11 elections.
Since construction of a storage site was finished in 1982, more then 100,000 barrels of low-level radioactive waste have been transported from nuclear power plants on Taiwan proper to the outlying island, without obtaining residents' consent in advance.
During a visit to Taitung on Friday last week, Tsai, who is seeking re-election as the Democratic Progressive Party's (DPP) candidate, pledged NT$2.55 billion in damages to Lanyu's Tao community.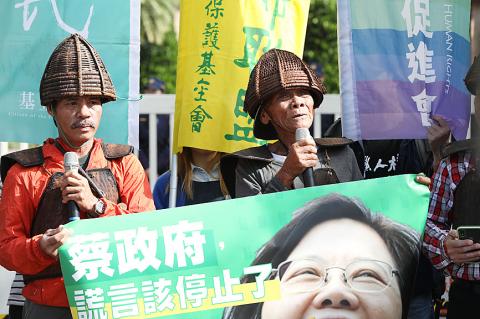 Tao elder Capen Nganaen, right, speaks at a protest in front of the Executive Yuan in Taipei yesterday.
Photo: Tu Chien-jung, Taipei Times
In addition, the government is to offer NT$220 million in compensation every three years until the nuclear waste is completely removed, Executive Yuan spokeswoman Kolas Yotaka said later that day, adding that guidelines for the reparations had last month been approved by Premier Su Tseng-chang (蘇貞昌) and that a fund management board that includes local residents would be established.
"We will not take a penny of the compensation, as we can catch fish and grow sweet potatoes to feed ourselves," Tao elder and anti-nuclear power campaigner Capen Nganaen said yesterday at a protest in front of the Executive Yuan in Taipei, accompanied by environmental protection groups.
The Tao-language remarks by 83-year-old Capen, who in 2016 became a presidential adviser after accepting an apology to Aborigines by Tsai, were translated into Chinese by Syamen Fengayan, another Tao.
Tsai's administration has not shown that it is sincere about wanting to relocate the nuclear waste and she is trying to buy off the Tao before the elections, Capen said, calling the president "a liar."
Kolas said that Minister Without Portfolio Lin Wan-i (林萬億) — convener of a Cabinet task force formed to probe the truth about nuclear waste storage on Lanyu — had obtained consent for the compensation from the majority of Tao after talks over the past three years.
However, Lanyu Primary School president Syamen Womzas said that the decision to accept the compensation was not unanimous, adding that the Cabinet's guidelines are not legitimate, as no advance notice was given before their publication.
The DPP government should enact a bill on compensation and nuclear waste disposal that passed a first reading at the Legislative Yuan three years ago, rather than adopt administrative guidelines, he said.
The NT$2.55 billion should instead be used as a budget for relocating the nuclear waste, Syamen Womzas said.
The government should establish a platform to discuss how to handle the nuclear waste and related compensation, while also continuing to reveal the storage site's buried history, he said.
After meeting with Tao representatives inside the Executive Yuan, Lin told them he would deliver their opinions to Tsai and Su, the National Nuclear Abolition Action Platform said in a statement.
While Lin promised to continue delving into the site's history, the statement cited him as saying that another budget would be allocated to relocate the nuclear waste, without elaborating.
Additional reporting by Lee Hsin-fang
Comments will be moderated. Keep comments relevant to the article. Remarks containing abusive and obscene language, personal attacks of any kind or promotion will be removed and the user banned. Final decision will be at the discretion of the Taipei Times.