2020 Election: Regional preferences likely to decide elections: analysts
As the Jan. 11 presidential and legislative elections approach, shifts in regional voter preferences will likely dictate how the Democratic Progressive Party (DPP) and opposition candidates will fare, political observers said.
Taipei and Taoyuan in the north, Taichung and Changhua County in the center and Kaohsiung in the south would be the major indicators of whether voter preferences are shifting and in what direction, analysts said.
In general terms, the Chinese Nationalist Party (KMT)-led pan-blue camp has traditionally garnered more support in northern Taiwan, while the DPP-led pan-green camp has dominated in the south. Central Taiwan has been the most likely region to swing between the two camps.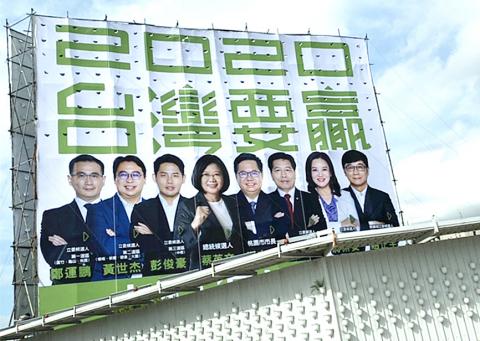 A campaign poster outside President Tsai Ing-wen's campaign headquarters in Taoyuan showing Tsai, fourth left, Taoyuan Mayor Cheng Wen-tsan, fourth right, and Democratic Progressive Party legislative candidates is pictured on Nov. 12.
Photo: Lee Jung-ping, Taipei Times
However, that conventional wisdom did not hold up in the 2016 presidential election or in the local elections on Nov. 24 last year.
Amid widespread dissatisfaction over the performance of President Tsai Ing-wen's (蔡英文) government, the KMT last year won control of more than two-thirds of the 22 cities and counties, while the DPP won only six, down from 13 previously.
That result was expected to hurt Tsai's re-election bid, but her constant criticism of China and rhetorical defense of Taiwan's sovereignty, along with missteps by the KMT and its candidate, Kaohsiung Mayor Han Kuo-yu (韓國瑜), have put her in the driver's seat in the presidential poll.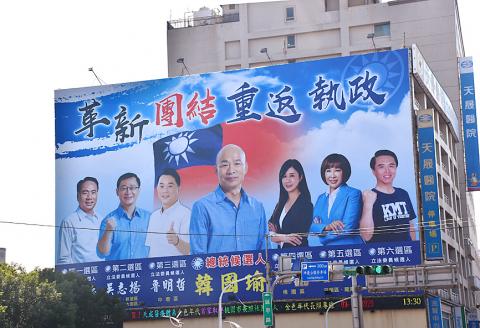 A campaign poster showing Kaohsiung Mayor Han Kuo-yu, center, the Chinese Nationalist Party's (KMT) presidential candidate, and KMT Taoyuan legislative candidates is pictured in Taoyuan on Nov. 12.
Photo: Lee Jung-ping, Taipei Times
Whether the rebound will extend to the DPP's legislative candidates remains unclear.
Eric Yu (俞振華), an associate research fellow at National Chengchi University's Election Study Center, said that the DPP's ability to seize more votes in constituencies lost to the KMT last year would be the decisive factor in its legislative campaign and even Tsai's re-election bid.
Taoyuan, once a KMT stronghold, might have already shifted to the DPP, as Cheng Wen-tsan (鄭文燦) assumed office as mayor in 2014, Yu said.
Cheng's performance not only helped Tsai win comfortably in Taoyuan in the 2016 presidential race against then-New Taipei City mayor Eric Chu (朱立倫), the KMT's presidential candidate, but also made him one of the DPP's few incumbents to win re-election in last year's local elections, Yu said.
An increase in the number of young people who work in Taipei or New Taipei City but live in Taoyuan, where housing prices are cheaper, might also be changing the voter structure there in a way that hurts the KMT, which has generally been less favored by younger people, he said.
Some believe that the KMT might have a better chance of maintaining its traditional advantage in Taipei, but Yu said that he expects Han to also struggle there because of the reluctance of so-called "blue intellectual voters" to vote for him.
Han, who last year won the Kaohsiung mayoral race by touting himself as an everyday man, is not favored by many pan-blue voters, Yu said.
In central Taiwan, dominated by Taichung and Changhua, voters have gone both ways, supporting the DPP in local elections in 2014 and in the presidential and legislative elections in 2016, but voting resoundingly for the KMT in last year's local elections.
Taichung is now the nation's second-largest city, behind only New Taipei City, thanks to a continued influx of new residents, and the changing population structure could result in considerable uncertainty, Yu said.
In Kaohsiung, Han is likely to lose to Tsai, because residents are unhappy with him for seeking the presidency just months after winning the mayoral election, he said.
Chang Yu-tzung (張佑宗), head of National Taiwan University's (NTU) Department of Political Science, said that many voters are also disappointed with Han's performance in his first year in office, which has hurt their confidence in him.
However, NTU political science professor Wang Yeh-lih (王業立) said that voters would hold the government accountable for its performance when voting for president.
The KMT's Ma Ying-jeou (馬英九) overwhelmingly defeated the DPP's Frank Hsieh (謝長廷) in 2008, as voters were disgruntled after a series of corruption scandals during the administration of the DPP's Chen Shui-bian (陳水扁), he said.
It was the same in 2016, when Tsai beat Chu after Ma's lackluster performance during his time in office, Wang said.
The public's dissatisfaction with Tsai's performance over her nearly four years in office might give the KMT an advantage in the upcoming presidential race, he said.
Comments will be moderated. Keep comments relevant to the article. Remarks containing abusive and obscene language, personal attacks of any kind or promotion will be removed and the user banned. Final decision will be at the discretion of the Taipei Times.