Pingtung banana sales to Japan double
Sales of bananas from Pingtung County to Japan are expected to double by the end of this year, Agriculture and Food Agency Director-General Hu Jong-i (胡忠一) said on Tuesday.
Exports of bananas to Japan have reached 2,715 tonnes this year, a 62.5 percent increase from 1,670 tonnes in the same period last year, Hu said, adding that the number is still growing.
Due to rising labor and production costs, the market share of Taiwanese bananas in Japan was shrinking, but the promotion efforts of Taiwanese officials — who visited Japan on Nov. 1 — have paid off, as their market share has increased, he said.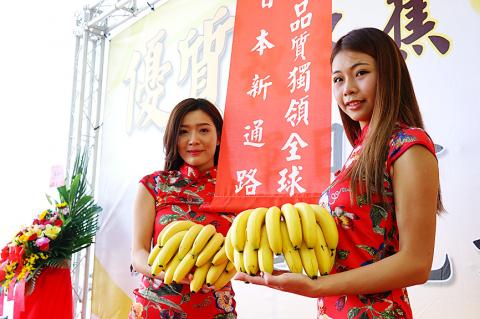 Two women on Tuesday hold bananas next to a banner touting the product's high quality and the opening of new markets in Japan at a news conference held by the Council of Agriculture's Agriculture and Food Agency in Pingtung County.Photo: Chen Yen-ting, Taipei Times
Since then, the cities of Kasama and Mito, as well as the town of Oarai, in Ibaraki Prefecture, have included Taiwanese bananas in lunch meals at elementary and junior-high schools, and have offered picture books to elementary-school students for them to learn more about the fruit and Taiwan, Hu said.
Meanwhile, Kasumi, the largest supermarket chain in Kasama, also introduced Taiwanese bananas, which have quickly become a favorite of Japanese customers, he said.
Taiwanese bananas were previously only sold in large Japanese cities, such as Tokyo, Osaka, Nagoya and Fukuoka, but now their market has expanded to include supermarkets in Ibaraki and Nagano prefectures, he added.
Representative Taiwan Office of Kasama City Director-General Chika Kinoshita said that Taiwanese bananas have an appealing aroma and a pleasantly soft texture, with which bananas from Southeast Asia or Ecuador cannot compare.
Kinoshita expressed the hope that the friendship between Ibaraki and Taiwan would enable the nation's premium agricultural products, such as bananas, to be served at next year's Tokyo Olympics.
Comments will be moderated. Keep comments relevant to the article. Remarks containing abusive and obscene language, personal attacks of any kind or promotion will be removed and the user banned. Final decision will be at the discretion of the Taipei Times.