Cultural sites lack plans
DANGER LOOMS: A DPP legislator said that more than 40 percent of local culture authorities nationwide have not yet submitted a required accident emergency plan
More than 1,000 cultural heritage sites nationwide do not have an accident emergency plan in place, Democratic Progressive Party (DPP) Legislator Ho Chih-wei (何志偉) said yesterday, urging government agencies to protect the nation's cultural assets.
Of the nation's 2,442 sites, 1,008 need a "natural accident prevention and emergency plan," as required by the Cultural Heritage Preservation Act (文化資產保存法) and Standard Operating Procedures of Disaster Prevention and Rescue for the Historical Buildings (古蹟及歷史建築消防救災處理原則), which state that authorities must submit a plan to local fire departments, Ho told a news conference in Taipei.
However, 41 percent of local culture authorities nationwide have not yet submitted a plan, he said, adding that 80 to 90 percent of relevant authorities have not done so in the top five ranking areas: Hsinchu, Kinmen and Yunlin counties, and Kaohsiung and Keelung.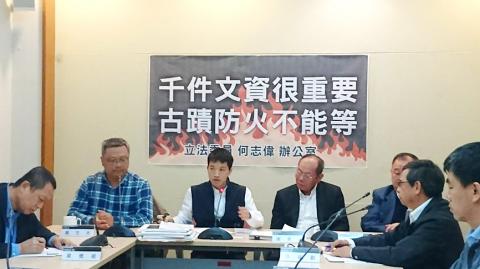 Democratic Progressive Party Legislator Ho Chih-wei, back row center, art historian and heritage conservationist Hsiao Wen-chieh, back row left, and National Fire Agency Deputy Director-General Hsieh Ching-hsu, back row right, speak at a news conference at the legislature in Taipei yesterday.
Photo: Chung Li-hua, Taipei Times
In November 2013, Cingshan Temple (青山宮) in Taipei's Wanhua District (萬華) was damaged in a fire, in which structures and flower and deity sculptures were partly destroyed, Ho said.
It is concerning that following the restoration, no emergency plans for fires have been proposed yet, he added.
Ho called on the Ministry of Culture's Bureau of Cultural Heritage and the Ministry of the Interior's National Fire Agency to implement stricter measures on local culture authorities to follow the law and take measures to protect cultural heritage sites.
Although all local culture authorities in New Taipei City, Taichung and Taitung County have submitted their emergency plans, an onsite review of some historical landmarks reveals poorly executed work, which is inconsistent with the official records, cultural heritage academic and conservationist Hsiao Wen-chieh (蕭文杰) said.
He cited the following sites as examples: the Shih Family Ancestral Mansion (施家古厝), the Old Taiwan Bank Dormitory (台銀舊宿舍) and the Kinoshita Seigai Old Abode (木下靜涯故居) in New Taipei City; the Taichung District Court old dormitory compound; the Lin Family Mansion (林宅) in Taichung's Longjing District (龍井); the Shuinan Tobacco Barn (水湳菸樓) in Taichung; and the old county council building and the old railway station in Taitung County.
Although the Taipei Railway Station old dormitory compound on Taipei's Jianguo N Road has submitted its emergency plan, the proposal was too simple and the fire control facilities on site were incomplete, Hsiao said, adding that despite these concerns, the Taipei Department of Cultural Affairs approved the plan.
"Such an irresponsible attitude could result in greater damage," he said.
Fire protection for historical relics are in an extremely difficult position, as they are often in narrow lanes and built with timber or other flammable materials, National Fire Agency Deputy Director-General Hsieh Ching-hsu (謝景旭) said.
Modern fire control facilities often cannot be installed due to heritage preservation regulations, and the infrastructure and management of electricity at historical sites differ from regular buildings, he said.
When it comes to the management and prevention of accidents at historical sites, a binding legal force on the execution is still lacking, the Bureau of Cultural Heritage said.
Comments will be moderated. Keep comments relevant to the article. Remarks containing abusive and obscene language, personal attacks of any kind or promotion will be removed and the user banned. Final decision will be at the discretion of the Taipei Times.