FEATURE: Listening, sharing are key: theater veteran
"Language has never been an issue in our theater," said director Peng Ya-ling (彭雅玲), a theater veteran and oral historian who has traveled around the world to listen to the stories of local people and perform the stories on stage.
Peng joined the Square and Round Theatre (方圓劇場) in 1980 as an actress, playwright and director before creating her own troupe, the Uhan Shii Theatre Group (歡喜扮戲團), in 1995.
Her troupe's Echoes of Taiwan (台灣告白) has earned it many invitations to international arts festivals, at which the work has been performed in various languages without subtitles or translations.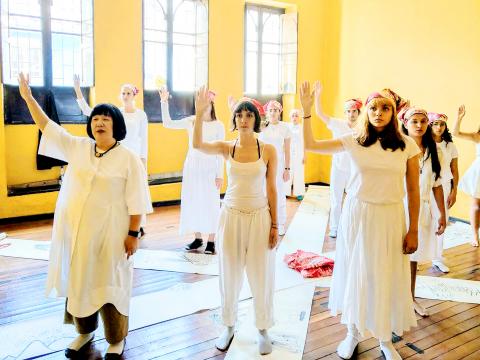 Director Peng Ya-ling, front left, leads a workshop for students in Bogota, Columbia, in an undated photograph.
Photo provided by Peng Ya-ling
However, Peng said she believes that cultural exchanges involve more than just traveling to a different place and performing.
Performers should "not only be thinking about what we want to say or expressing how beautiful we are, how capable we are," she said. "We should first listen to what others have to say, and then share our own stories with them."
In 2016, Peng was invited to bring Echoes of Asia to Makassar, the capital of Indonesia's South Sulawesi Province, where in 1997 a mixed-race man of Chinese descent accidentally killed a Muslim woman — an incident that triggered widespread violence and planted a seed for the 1998 anti-Chinese riots in the country.
As part of the project, Peng interviewed a group of local ethnic Chinese and hired Indonesian actors to perform their stories.
"When I was with Indonesians, I heard many bad things about ethnic Chinese," Peng said. "When I went to the home of an ethnic Chinese, they would not even allow the Indonesians that I had brought with me to step inside."
She told the ethnic Chinese the bad things that she had heard being said about them, and then told the Indonesians their responses, she said, adding that through this process, she learned that "the Indonesian government had suppressed ethnic Chinese and the culture of Chinese language in various ways, that Indonesian textbooks clearly stated anti-Chinese [sentiments] and that there were too many cases to be counted in which the government had extorted ethnic Chinese."
"Many ethnic Chinese mentioned in their interviews that they originally had 10 or more siblings, but only had a few left now," she said.
Initially thinking that the decline was due to a high infant mortality rate, she said she later learned that "nearly every family had experienced their homes being burned."
Many people also told of their experiences of watching their siblings get raped or of hiding inside closets, she said.
Peng said that when she asked families how they got back on their feet after losing all their property in the fires, they told her that they united, formed mutual aid societies and worked hard at their businesses.
After three weeks of interviews and rehearsals, Echoes of Asia hosted a panel discussion, she said, adding that as soon as the many academics, experts and journalists arrived, they began to yell at her because of her Chinese appearance.
Before her interpreter could even tell her what they were saying, the Indonesian actors stood up and defended her with tears in their eyes, she said.
The actors' impression of ethnic Chinese, after hearing the stories of her interviewees over the previous three weeks, had changed, she said, adding that portraying ethnic Chinese also changed the actors.
"It rained heavily on the day of the performance," she said. "I was performing in an Indonesian district — a district where ethnic Chinese did not venture — and not one of the interviewees showed up."
However, at the last moment, more than 10 vehicles arrived all together, she said.
"I thought they were not coming. They originally said they did not want to come," Peng said. "But holding up a soaked newspaper, they said that news of the panel discussion filled half of the front page — that ethnic Chinese in the area had never been reported on so extensively, so they felt a need to come and support the performance."
Last month, Peng was invited to take part in the Festival de Mujeres en Escena por la Paz in Bogota, Colombia, where she hosted a workshop and gave a talk and performance on the theme of "Hakka art as stage."
"There are many armed soldiers on the streets of Bogota," Peng said. "Each year, as many as 5,000 people are reportedly shot and killed on the streets."
The festival director, 71-year-old Partricia Ariza, who invited her, has been "fighting in the streets for years," Peng said, adding that Ariza wears a bulletproof vest every day and is protected at all hours by four bodyguards.
One of her workshop students was an Aboriginal girl whose village had been wiped out because a guerilla leader lived there, she said.
"Faced with violence, they had no energy to be angry or to protest," she said. "If you are an ordinary citizen, you can only watch your father and children die, unless you become a guerilla."
Another female student had developed a drug addiction at a young age, Peng said.
On the first day of the workshop, participants were asked to share the happiest day of their lives that were yet to happen, Peng said, adding that everyone cried.
Many imagined what it would be like to spend another day with their families, which was impossible for them, she said.
On the second day, Peng said she asked them to remember the saddest day of their lives.
Instead of using words, they were to perform a ceremony in which they picked up shreds of paper using a fan, she added.
Peng said that she told them about the significance of burning paper money in Taiwanese culture — how the paper money turns into good wishes and symbolizes a life transformed and elevated.
"Someone from the other side of the world hugged them, shed empathetic tears, listened to them closely, like family, and then completed a work with them," she said. "What I have done is really not the usual, ordinary international cultural exchange."
After rehearsing their performance, one student hugged her and crying said that she wanted to be her daughter, while another said she wanted to be Hakka like her, Peng said.
"Because you are from Taiwan, you have many traditions that Colombia does not have," they told her.
Taiwanese diplomacy needs this kind of "deep, emotional and humanistic interaction," she said.
Diplomacy requires participation in local life, not just photo ops with prominent figures, a ceremony or meal, and an official report, she added.
Despite participants' responses, Peng said that each application for an arts subsidy takes a proposal developed through tedious preparation and weeks of ensuring that it conforms to strict requirements to be successful.
Over the past several years, the Uhan Shii Theatre Group has been carrying out Hakka Female Voices (客家女聲), in which it invites Hakkas from across Taiwan to write poetry and recite the poems at various locations, Peng said.
The performances also incorporate local mountain songs, huqin instruments, folk dances, bayin music and even tea ceremonies, she added.
Peng said she has invited four director/performers from Denmark's experimental Odin Teatret to participate in performances next month, which are to take place at Hakka elementary schools in three different communities.
During the performances, the guests are to incorporate Latin American tango, European classical music and even performances on stilts with Hakka culture, she said.
Comments will be moderated. Keep comments relevant to the article. Remarks containing abusive and obscene language, personal attacks of any kind or promotion will be removed and the user banned. Final decision will be at the discretion of the Taipei Times.