INTERVIEW: Taiwanese firms should not rely on China: Lin
Jose Lin, founder of Taiwanese software company Awoo International, tells reporter Liao Chien-ying of the Liberty Times' (the sister newspaper of the Taipei Times) why he refused investment offers from China's Baidu and Alibaba in favor of Silicon Valley
Liberty Times (LT): Why did you refuse Chinese capital the first time?
Jose Lin (林思吾): Back before [Alibaba Group Holding cofounder] Jack Ma (馬雲) spoke with me, I was approached by [the search engine company] Baidu. This was a major decision for me, and established my mindset on the issue of a Taiwanese consciousness.
In 2013, Baidu was looking to enter the Taiwanese market, and wanted to have the content from their question-and-answer Baidu Knows (百度知道) converted to traditional Chinese and made more accessible for the Taiwanese versions of Google and Yahoo.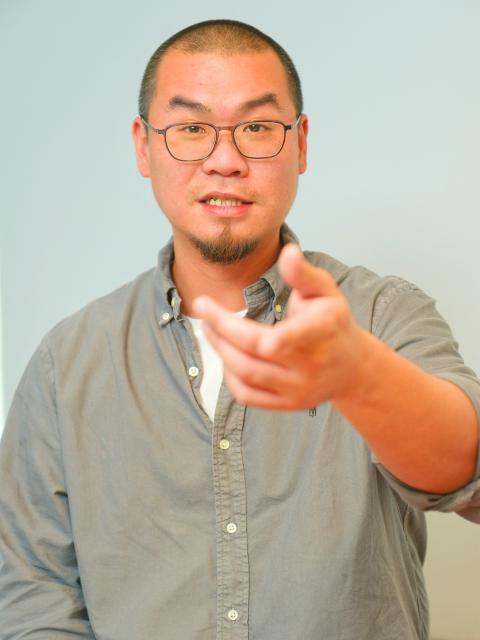 Jose Lin, founder of software company Awoo International, gestures during an interview with the Liberty Times in Taipei on March 20.
Photo: Chang Chia-ming, Taipei Times
At the time, the problem Baidu encountered was that of the roughly 1 million question-and-answer threads on their servers, Google only returned search results for 300,000 — they hoped all 1 million could be made retrievable.
My specialty is search engine optimization, so Baidu's hope in seeking me out was that I could help them solve this impasse. After that, there would be a succession of projects aimed at entering Taiwan.
As a company that was focused on helping businesses get prioritized by Web searches, being sought out by Baidu was like a gift from the heavens, but after I thought about it, I decided I did not want to do it.
Why not? I was worried that having Chinese content show up in Web searches done in Taiwan would be detrimental to the competitiveness of Taiwanese businesses.
Think about it, if the whole first page of a Web search showed results from Baidu, then it would be just that much harder for a Taiwanese start-up to show up in search results. It would obliterate all of their hard work.
A search engine is also a kind of medium, and another way to win control of a market. This would be very harmful to Taiwan. Personally I could not accept that — having my successes in business be built on the foundation of harming Taiwan. Therefore, I resolutely refused the offer from Baidu.
LT: Why did you also refuse capital from Ma?
Lin: In 2014, a private equity fund headed by Ma made an offer worth NT$100 million [US$3.2 million at the current exchange rate], equivalent to a 15 to 20 percent stake in the company.
The day we discussed the deal I told them that I would not take it.
The reason is that China is not the company's primary market. If I took that money, it would not be a huge help to the company and I hoped that my personal success would not have much to do with China.
Awoo is a consultancy firm that is focused on helping companies increase traffic to their Web sites. Primarily we research the search algorithms used by Google and Yahoo, looking for ways to prioritize our clients in their search results — it is very profitable.
Later, the Sunflower movement took place, which was a catalyst for us to transform Awoo into a software start-up.
During the Sunflower movement I was there meditating and I had a moment where a sense of oppression washed over me, and I felt like Taiwan might soon be lost.
As a young entrepreneur I had a deep understanding that China and Taiwan must be separate from each other, and that I must follow a path that does not include China.
If Taiwan is to march forward as an independent, democratic country, there are three issues that must be addressed: industrial structure, national land planning and the China element.
With regard to industrial structure, the software industry is very important for Taiwan, especially because software development pays well, consumes few resources and concentrates intellectual resources.
This scenario is what the next generation in Taiwan should be aiming for.
Additionally, if a company is established in Taiwan, it should aim to globalize, not march toward China. If you want to follow a path that does not include China, Japan is a great choice.
LT: How can Taiwanese entrepreneurs compete with Chinese companies?
Lin: The first thing is to avoid the Chinese market, because in China you need to worry about your products being copied. You could have your specialty or your patents stolen — China is a country with zero concept of intellectual property rights.
So on the one hand you want to enter the Chinese market to make money, but on the other hand you worry about having your products copied. Is that not strange?
Taiwanese entrepreneurs can choose countries other than China to market themselves, such as South Korea, Japan, Vietnam and Indonesia.
These countries are not so welcoming toward Chinese, which is to Taiwan's advantage. Japan is the best choice and is a large country.
Many Chinese companies that go to Japan have to disguise themselves as Japanese companies or find Japanese partners to cooperate with.
It is tough for entrepreneurs in Taiwan. For example, since China's iQiyi [video streaming service] came to Taiwan, things have been very difficult for local media streaming companies.
This is especially true because Taiwan has no defenses or laws [to protect local businesses]. The public even lacks a sense of vigilance toward China.
For Chinese businesses, coming to Taiwan is like crossing an unguarded border. Bypassing local laws and establishing companies is a simple matter for them.
I felt a sense of crisis so early on that I established my business' domain in Taiwan, Japan and Indonesia — I will not stay just in the Taiwanese market.
Normally after a business is established there are a few routes a proprietor can take: Become listed, do not become listed or sell the company to someone else.
I hope we can become Taiwan's next Trend Micro.
Taiwan needs a lot more firms like Trend Micro.
LT: What advantages and disadvantages do Taiwanese entrepreneurs bring to the table?
Lin: One advantage Taiwanese entrepreneurs offer is speed. There are less rules to deal with. Japan is slower — every decision needs to be confirmed several times.
Also, Taiwanese companies are very adaptive and make quick updates based on changes in the operational environment.
Taiwan's skilled workforce is also an advantage, and is second to none throughout East Asia and Southeast Asia.
Proprietors here have skills, but lack marketing ability. Taiwan's fast mobile network speeds and its skilled workforce have attracted the likes of Microsoft, Google, Amazon and other major players in the industry who have come here to establish AI [artificial intelligence] research centers.
As for disadvantages, it really comes down to a lack of people with the know-how to break into markets.
Taiwanese have the skills, but do not know how to market themselves. Their understanding of different markets is too superficial, it is not refined enough.
For example, with regard to markets in Southeast Asia, each country there has its own unique culture. A deeper understanding of each individual market is needed.
Why have I refused Chinese capital and prefer funds from Silicon Valley? Money is neutral, but the meaning behind the investment is not neutral.
Why does the Alibaba Entrepreneurs Fund show a preference for Taiwanese groups? This is the first thing we need to think about.
Again, if the money comes from China, it will never be neutral.
The Alibaba fund is suitable for Taiwanese with aspirations for developing in China, but if one wants to expand one's company worldwide and is not focused on the Chinese market, this fund should not be your first choice.
There is no need for us to become sacrificial pawns in the US-China trade war, plus the current tide of thought is not toward development in China.
Translated by staff writer William Hetherington
Comments will be moderated. Keep comments relevant to the article. Remarks containing abusive and obscene language, personal attacks of any kind or promotion will be removed and the user banned. Final decision will be at the discretion of the Taipei Times.