New HIV/AIDS cases down 21 percent annually: CDC
A total of 1,993 new cases of HIV/AIDS were confirmed last year, a 21 percent annual decrease, the Centers for Disease Control (CDC) said yesterday, adding that the main infection route was unprotected sex, which accounted for 92 percent of the cases.
With tomorrow being Valentine's Day, the agency said that people should remember to insist on practicing safe sex and be tested for HIV if they engage in unprotected sex.
Last year's total for new HIV/AIDS cases was the lowest annual number since 2012, with 44 percent of the infections involving people aged 25 to 34 and 26 percent involving those aged 15 to 24, CDC disease monitoring data showed.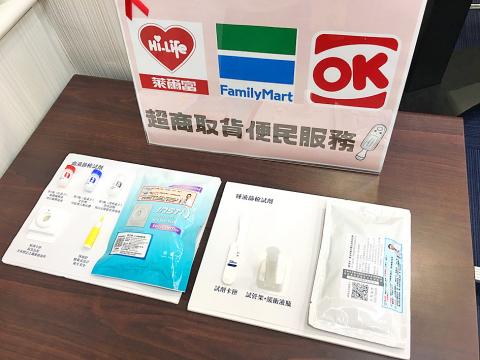 HIV self-test kits are pictured at a news conference yesterday as the Ministry of Health and Welfare encouraged high-risk groups to purchase test kits at three major convenience store chains.
Photo: Lin Hui-chin, Taipei Times
The agency in December last year launched a self-screening program that provides HIV oral testing kits that can be purchased anonymously for NT$200 from vending machines or from the CDC's Web site, in which case they are delivered to a convenience store.
A full refund on the kit is available for people who register their test result with the agency.
CDC Deputy Director-General Philip Lo (羅一鈞) said that 7,771 kits have been purchased since the program began — 1,559 from vending machines and 4,950 from the agency's Web site, increases of 39 percent and 44 percent respectively from a year earlier.
A total of 3,759 people have registered their test results on the CDC's Web site, with 31 testing HIV-positive, he said.
Three people who tested HIV-positive did not register their results online, but sought treatment at a hospital after taking the test, he added.
In addition to the CDC's Web site, the home testing kits can be purchased at 401 venues and 26 vending machines nationwide set up by 21 local health departments — the Chiayi City Public Health Bureau being the exception — and five non-governmental organizations, the agency said.
People who have engaged in sexual activity should take an HIV test at least once, those who continuously engage in unprotected sex should be tested at least once per year and individuals who engage in high-risk behaviors — sharing syringes and other injection equipment; having multiple sexual partners; using intravenous drugs; or having other sexually transmitted diseases — should be tested every three to six months, it said.
People diagnosed with HIV/AIDS should immediately take medication according to a doctor's prescription, it added.
Comments will be moderated. Keep comments relevant to the article. Remarks containing abusive and obscene language, personal attacks of any kind or promotion will be removed and the user banned. Final decision will be at the discretion of the Taipei Times.