China Airlines Strike: Union offers talks, to stage sit-in
GIVE AND TAKE? A union leader said that it has made concessions, but has made additional proposals due to China Airlines' refusal to improve working conditions
The Taoyuan Union of Pilots yesterday offered to hold eight-hour negotiations beginning at 1am today, as it announced plans for a sit-in in front of the Ministry of Transportation and Communications in Taipei in support of striking China Airlines pilots, whose strike enters its sixth day today.
No timeframe was given for the sit-in.
While the ministry and the airline agreed to meet with union representatives, China Airlines said that the union's proposed start time for the talks was unfair, as it appeared to be an effort to avoid a media presence, even though the negotiations are to be broadcast live over the Internet.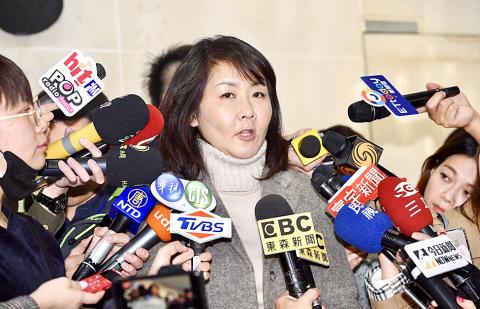 Taoyuan Union of Pilots board director Chen Pei-pei talks to reporters about the China Airlines strike in Taipei yesterday.Photo: Peter Lo, Taipei Times
The carrier said that it had agreed to deploy three pilots for flights that exceed eight hours and four pilots for flights that exceed 12 hours, thereby meeting the union's main terms for resolving the problem of pilot fatigue.
It said that it also agreed to assign three pilots for red-eye flights — those departing between 2am and 5am — if the duration of the flight is more than seven hours.
However, it rejected a new demand by the union that multi-leg flights of more than seven hours should also be assigned three pilots, it added.
The union has defined multi-leg flights as those in which the aircraft makes two or more landings, including round-trip flights between two destinations, while China Airlines said that it defines multi-leg flights as those involving landings at a minimum of three different destinations.
Accepting the union's demand on multi-leg flights would dramatically raise personnel costs, it said.
Deputy Minister of Transportation and Communications Wang Kwo-tsai (王國材), who took part in three-way negotiations held on Monday night, said that he was extremely disappointed that the union refused to discuss the airline's proposal for red-eye flights.
The union also did not consider the ministry's compromise that a third pilot be assigned on a case-by-case basis for flights with a duration of between six and eight hours, he said.
A lack of consensus on this issue led to the strike continuing yesterday for a fifth day.
Union board director Chen Pei-pei (陳蓓蓓) rejected accusations that the union has changed its demands, saying that it has made many concessions, but needs to make additional proposals because of China Airlines' refusal to amend its working conditions.
The union's first concession was agreeing to use flight time rather than flight duty period as the basis for dispatching additional pilots, said Chen, one of the first female pilots trained by China Airlines.
The flight duty period refers to the period that commences when a crew member is required to report for duty for a flight or a series of flights and ends when the airplane comes to a full stop at the end of the final flight.
Its second concession was agreeing that the company should dispatch four pilots when a flight's scheduled duration exceeds 12 hours, instead of 11 hours, she said.
The union had good reasons for demanding a third pilot on multi-leg flights lasting more than seven hours, Chen said.
For example, round-trip service between Taipei and Bangkok totals about seven hours, but pilots actually work eight hours if the waiting time on the ground is included, she said.
Pilots are likely to feel tired in such cases, she added.
While the airline defines red-eye flights as those in which pilots report for duty between 12am and 5am, it can always manage to meet airline regulatory standards by playing semantics, Chen said.
The airline should come up with a better proposal for relieving the fatigue that pilots might experience on multi-leg flights if it thinks that the union's demand is unfeasible, she said, adding that the union should not keep making concessions while China Airlines does nothing.
The Civil Aeronautics Administration's Aircraft Flight Operation Regulations (航空器飛航作業管理規則) are the framework that airlines have to follow, but the rules governing the dispatch of pilots must be set through negotiations between workers and management, she said.
The regulations stipulate that the flight time of an airplane begins from the moment it moves away from the gate to take off until the moment it comes to a full stop after landing.
A duty period is defined as beginning when a flight or cabin crew member is required by their airline to report for or to commence a duty and ends when that person is free from all duties.
Comments will be moderated. Keep comments relevant to the article. Remarks containing abusive and obscene language, personal attacks of any kind or promotion will be removed and the user banned. Final decision will be at the discretion of the Taipei Times.