TAPM board votes to sack manager
The Taipei Agricultural Products Marketing Co's (TAPM) board yesterday afternoon passed a motion to dismiss TAPM general manager Wu Yin-ning (吳音寧), effective immediately.
The move had been previously proposed by the Council of Agriculture, but the decision came just days after the Democratic Progressive Party (DPP) suffered major losses in local elections, including in some predominately agricultural counties that had long been DPP strongholds.
Wu has been blamed by some as a major reason for the DPP's losses, as it had backed her during several controversies this year.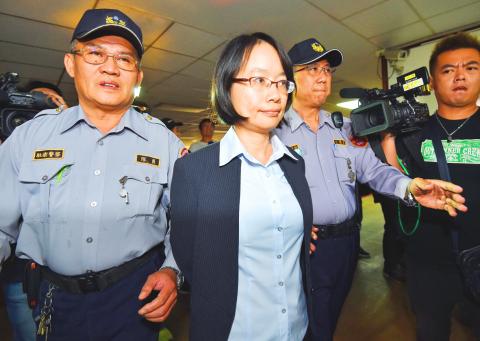 Taipei Agricultural Products Marketing Co general manager Wu Yin-ning, center, is escored by police as she attends a meeting of the company's board in Taipei yesterday.
Photo: Liu Hsin-de, Taipei Times
Council Minister Lin Tsung-hsien (林聰賢) on Wednesday said that Wu's task for this stage has been finished and the council could discuss a suitable replacement with the Taipei City Government, indicating there had been a decision to dismiss Wu.
Wu told a news conference yesterday morning that she "refuses to bow down to powerful lies," and would continue to defend her ideals and tackle agricultural problems, but would leave personnel decisions to the board meeting.
Her job is to manage the nation's largest agricultural production and sales platform, ensure its smooth operation, fairness and transparency, she said, adding that she does not like to self-aggrandize.
Wu said she had dealt with many problems, such as the Taipei First Wholesale Fruit and Vegetable Market renovation plan, and agricultural exports to Palau and Singapore, but it was a pity that there had been too many rumors and publicity stunts.
She took up the post several months after Kaohsiung mayor-elect Han Kuo-yu (韓國瑜) resigned from the job, and she did not receive a higher salary than her predecessors, she said.
She established a reasonable bonus system for the company, but many people still used rumors to attack her and her family, as well as President Tsai Ing-wen (蔡英文) and council Deputy Minister Chen Chi-chung (陳吉仲), Wu said.
Han had been criticized by DPP Taipei City councilors for giving out excessive holiday bonuses to TAPM employees and was investigated by the Taipei prosecutors.
"I will not bow down to lies, especially to powerful lies," Wu said, adding that she would continue to defend her ideals and work to help farmers.
Asked about Taipei Mayor Ko Wen-je's (柯文哲) complaints over her refusal to report to the Taipei City Council, she said the law did not require her to do so and that using the TAPM as an arena for political wrestling does not help it or Taiwan's agricultural sector.
Taipei Department of Public Works Director Peng Jhen-sheng (彭振聲), who also serves as TAPM chairman, said Wu's dismissal was effective yesterday.
TAPM Chief Secretary Lu Chuan-li (路全利) is to serve as acting general manager, he said.
Comments will be moderated. Keep comments relevant to the article. Remarks containing abusive and obscene language, personal attacks of any kind or promotion will be removed and the user banned. Final decision will be at the discretion of the Taipei Times.