Coalition urges immediate release of Lee Ming-che
A coalition of civil groups yesterday called for the immediate release of human rights advocate Lee Ming-che (李明哲) and urged the government to continue pressuring China on the issue, after an application by Lee's wife, Lee Ching-yu (李凈瑜), to visit her husband was rejected by the Chinese government earlier this month.
"It has been exactly one year since Lee was sentenced to prison and we urge the Taiwanese government to continue taking measures to demand his release," Taiwan Association for Human Rights secretary-general Chiu Ee-ling (邱伊翎) told a Taipei news conference jointly held by the association, Amnesty International, Covenants Watch and other groups.
Taipei Mayor Ko Wen-je (柯文哲) should use the Dec. 20 twin-city forum between Taipei and Shanghai as an opportunity to lodge a protest with Beijing over the way Chinese authorities arbitrarily transferred Lee to different prisons and denied visitation rights to his family members, she said.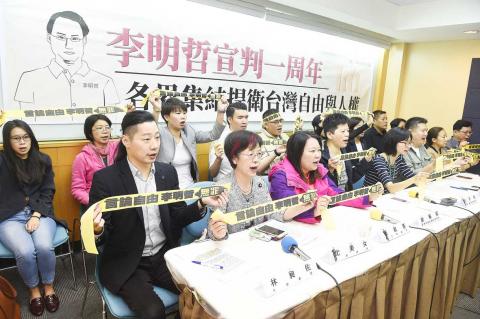 New Power Party Legislator Freddy Lim, Democratic Progressive Party Legislator Yu Mei-nu, front row first and second left, and other people at a news conference in Taipei yesterday call on China to unconditionally release jailed Taiwanese rights advocate Lee Ming-che.
Photo: Chen Chih-chu, Taipei Times
The groups have previously called on the Taiwanese delegation to the APEC summit to demand Lee's release when meeting Chinese President Xi Jinping (習近平) earlier this month, but the delegation did not mention anything about Lee throughout the summit, Chiu added.
Lee was on Nov. 28 last year sentenced to five years in prison for "subversion of state power" after holding online lectures on democracy and helping families of jailed dissidents in China.
He was arrested in March last year when entering China from Macau, and yesterday was the 619th day of his detention, Chiu said.
Authorities had allowed Lee's family to visit him five times since March, but have stopped allowing visits since September, she said.
In October, the family received indirect information that Lee had been transferred to another prison, although no explanation was given, she said, adding: "There is absolutely no information about him at the moment and that raises concerns about his well-being."
Chiu also mentioned a referendum that sought to change the national team's name from "Chinese Taipei" to "Taiwan," which was rejected on Saturday.
"Many foreign media outlets have interpreted the election results as an indication that Taiwan is leaning toward China, but we are here today to show that Taiwanese will defend their freedom of speech and human rights, that we will not approve of Beijing's values and disregard for human rights," she said.
Her view was echoed by Democratic Progressive Party Legislator Yu Mei-nu (尤美女), who vowed to continue voicing support for Lee and calling for his release "until the day he is freed."
Comments will be moderated. Keep comments relevant to the article. Remarks containing abusive and obscene language, personal attacks of any kind or promotion will be removed and the user banned. Final decision will be at the discretion of the Taipei Times.