DPP elects mayor as acting chairman
'A DIFFICULT TIME': The DPP must ensure government stability while improving its performance, DPP acting chairman Lin Yu-chang after his unanimous election
The Democratic Progressive Party's (DPP) Central Standing Committee yesterday elected Keelung Mayor Lin Yu-chang (林右昌) as the party's acting chairman, after President Tsai Ing-wen (蔡英文) stepped down from the party's top post over the DPP's bruising defeat in Saturday's nine-in-one elections.
Former DPP secretary-general Hung Yao-fu (洪耀福), who also stepped down from his post, told reporters after the committee meeting that Lin was chosen for his extensive experience and good rapport with his colleagues.
"Lin began working with the party as a junior staff member and has worked in a number of different positions including vice secretary-general. He is familiar with party affairs and would adapt to the new role quickly," Hung said.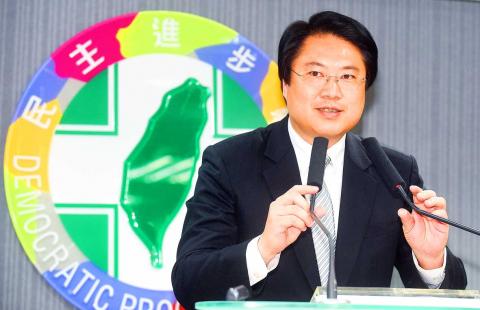 Keelung Mayor Lin Yu-chang speaks at a meeting of the Democratic Progressive Party's Central Standing Committee in Taipei yesterday, saying he agrees to serve as the party's acting chairperson.
Photo: Liao Chen-huei, Taipei Times
Lin was elected in a unanimous vote, Hung added.
"The party needs me at this difficult time, so I will be brave and take that responsibility," Lin told a news conference afterward.
The DPP's defeat suggested that there is great room for improvement and the party must thoroughly reflect on its mistakes, he said.
"The problem does not lie in a lack of younger politicians in leadership positions, but in a need to truly understand our mistakes and sharing the responsibility in fixing them," Lin added.
The party must ensure government stability while improving its performance, he said, calling for solidarity and urging party members to remain ambitious.
"Such a difficult time requires us to work together more than ever. We must support each other, comfort and encourage our supporters, and never lose our conviction," Lin said.
His priorities are to organize the election for a new chairman and the nomination of two candidates for a legislative by-elections, he said.
The by-elections are expected to be held in Taipei and Tainan in January after DPP Legislator Pasuya Yao (姚文智) resigned during his campaign for Taipei mayor and DPP legislator Huang Wei-che (黃偉哲) was elected Tainan mayor.
The committee also decided to form a team to coordinate work on the nomination for the by-elections, DPP spokesman Cheng Yun-peng (鄭運鵬) said.
Its members include Taoyuan Mayor Cheng Wen-tsan (鄭文燦), who was named convener, DPP Legislator Gao Jyh-peng (高志鵬) and himself, Cheng Yun-peng said.
As the Central Election Commission might announce the details of the by-elections as soon as tomorrow, candidates should move their household registration to the electoral district where they plan to stand for election by that time if they are from a different district, he said.
The team would consult with likely candidates and ensure that their household registrations are in the district they want to represent, he added.
Comments will be moderated. Keep comments relevant to the article. Remarks containing abusive and obscene language, personal attacks of any kind or promotion will be removed and the user banned. Final decision will be at the discretion of the Taipei Times.