2018 ELECTIONS: Tainan winner downplays victory
Democratic Progressive Party (DPP) Tainan mayoral candidate Huang Wei-che (黃偉哲) yesterday declared victory at 7:45pm, and his main rival, the Chinese Nationalist Party's (KMT) rival Kao Su-po (高思博) conceded at 8:40pm.
The other candidates in the race ran as independents: Chen Yung-he (陳永和), Lin Yi-feng (林義豐), Hsu Chung-hsin (許忠信) and Su Huan-chih (蘇煥智).
Huang had turned down an offer by supporters to set off fireworks to celebrate, as he was "shocked at how close the race was."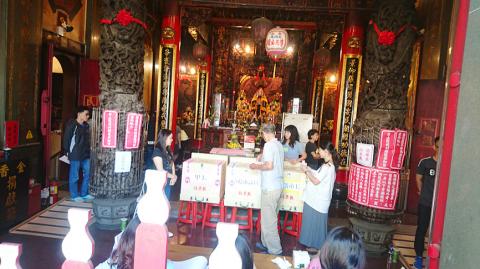 Tainan residents vote yesterday at the Zun Wang Gong temple, the nation's smallest polling station.
Photo: Liu Wan-chun, Taipei Times
Huang thanked the people who had voted for him and said the close win was due primarily to a slackening in his efforts.
Huang said it was wrong to blame others for the closeness of the race, after some said the atmosphere was not in the DPP's favor, or that the KMT was riding on the coattails of its Kaohsiung mayoral candidate, Han Kuo-yu (韓國瑜).
The DPP's performance in Tainan showed that the party still has a long way to go in terms of local governance, Huang said.
He denied that he sought to improve on the performance of Premier William Lai (賴清德), the former Tainan mayor, but thank his predecessors for their hard work.
Huang faced a tougher race than incumbent Lai did in the November 2014 nine-in-one elections, who was running against then-National University of Tainan president Huang Hsiu-shuang (黃秀霜).
Lai received 711,557 votes, or 72.9 percent, while Huang Hsiu-shuang received 264,536 votes, or 27.1 percent, out of 976,093 valid votes.
There were no independent candidates that year.
Huang has represented Tainan's second constituency for four successive terms before he ran for mayor.
Polls showed Huang had 42 percent support in the party primary, enough to win the nomination.
Meanwhile, Kao said he had let down his supporters, particularly his father, the Chinese-language United Daily News reported.
Kao also expressed regret that the opposition had not concentrated its forces, the paper said.
Comments will be moderated. Keep comments relevant to the article. Remarks containing abusive and obscene language, personal attacks of any kind or promotion will be removed and the user banned. Final decision will be at the discretion of the Taipei Times.