2018 ELECTIONS: Officials scramble as more cases of vote-buying surface
Authorities yesterday issued arrest warrants for a city councilor candidate in New Taipei City and another in Kaohsiung regarding vote-buying allegations, while candidates in Yilan and Hsinchu counties were detained for similar allegations.
Police in Kaohsiung were still looking for a city councilor candidate surnamed Wu (吳), after he failed to report to the Kaohsiung District Prosecutors' Office after it was alleged that he had been paying for votes in the city's Siaogang District (小港).
An arrest warrant was also issued for independent New Taipei City councilor candidate Ou Chin-shi (歐金獅) after he failed to answer to a summons. He allegedly gave seven people NT$3,000 each for their votes.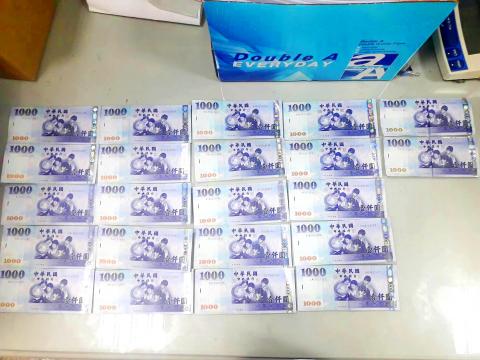 Several bundles of NT$1,000 bills are displayed at the Tainan District Prosecutors' Office yesterday.
Photo copied by Wang Chun-chung, Taipei Times
Meanwhile, former Suao Township (蘇澳) mayor Lin Teng-huang (林騰煌), a Chinese Nationalist Party (KMT) Yilan County councilor candidate, was detained on vote-buying allegations.
Yilan County head prosecutor Liang Kuang-tsung (梁光宗) said investigators found that Lin had visited a family in Suao earlier this month, and gave each person NT$1,000 after they promised to vote for him.
Prosecutors on Wednesday raided Lin's residence and his campaign office, where money and voter lists were confiscated, Liang said, adding that Lin and his staff were detained for questioning.
A woman surnamed Su (蘇) was questioned and detained, after police received reports that she had been working as a broker for Lin, distributing NT$1,000 each to residents, Liang said.
In Hsinchu County, independent candidate Chiang Liang-ming (姜良明), who is running for Beipu Township (北埔) mayor, was yesterday detained, because of the likelihood that he might collude with others and tamper with evidence
In September, Chiang and his vote brokers allegedly began paying people NT$1,000 to NT$3,000 for each of their votes, prosecutors said.
Two vote brokers and a number of Beipu residents admitted to having been involved, prosecutors said, adding that the alleged vote-brokers were released on bail of NT$30,000.
In Taitung County, four vote-buying cases involving county councilor, township councilor and borough warden candidates were being investigated.
Authorities received reports that residents had allegedly received NT$1,000 to NT$2,000 from certain candidates and their campaign staff in Taitung City, Changpin Township (長濱) and Luyue Township (鹿野), prosecutors said.
Meanwhile, prosecutors in Changhua County arrested two candidates running for village warden in Fenyuan Township (芬園) and Puyan Township (埔鹽) on allegations that residents were given NT$1,000 in exchange for their votes.
Comments will be moderated. Keep comments relevant to the article. Remarks containing abusive and obscene language, personal attacks of any kind or promotion will be removed and the user banned. Final decision will be at the discretion of the Taipei Times.