2018 ELECTIONS: CEC reminds voters of regulations
HAVING A SAY: Today's election is on par with the last presidential election, with 15,886 voting booths for the 19,102,502 people who are expected to vote
More than 19 million people are expected to head to voting booths today to cast their ballots in the nine-in-one elections and 10 referendums.
Central Election Commission (CEC) Chairman Chen In-chin (陳英鈐) yesterday encouraged people to vote, reminding them to take their national identification card, stamp and voting notification billet with them.
Voters should use provided stamps to stamp the ballots, and not their personal stamps, for their votes to be valid, he added.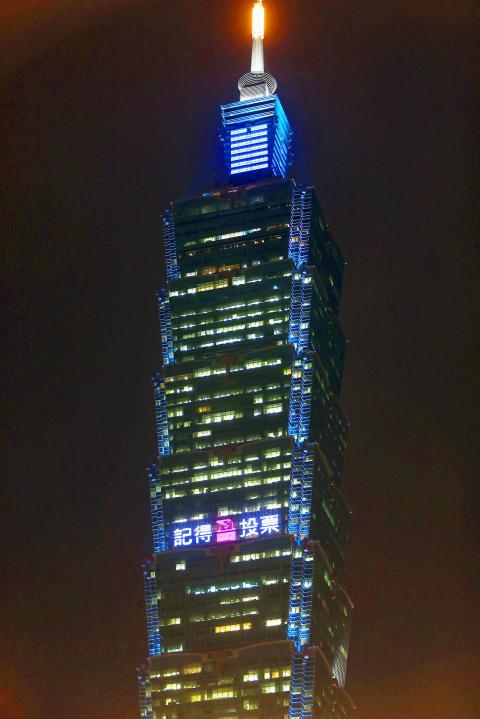 A message reminding people to vote is displayed on Taipei 101 yesterday.
Photo: CNA
There are 19,102,502 eligible voters for the county commissioner and city mayor elections, and 19,053,128 eligible voters for the city and county councilor elections, the commission said.
There are 19,757,067 eligible voters for the referendums. Of those, 580,000 voters are 18 to 20 years old, it said.
Under the Referendum Act (公民投票法), "yes" votes must exceed one-quarter of the total amount of eligible voters, or 4,939,267 votes, and must be more than the number of "no" votes for a referendum to be passed, the commission said.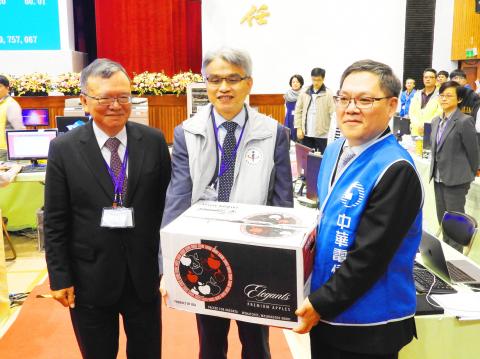 Central Election Commission Chairman Chen In-chin, center, and a functionary hold a box of apples — the first Chinese character of which is a homophone of "peace" — to encourage election staff during an inspection of the central vote-counting center at Taiwan Police College in Taipei yesterday.
Photo: Chen Yu-fu, Taipei Times
Today's election is on par with the scale of the last presidential election, with 15,886 voting booths across the nation and 290,000 staffers and volunteers at voting stations, Chen said.
No propaganda would be allowed at voting stations, and under the principle of election neutrality, no consultation about referendums would be provided at the voting stations, Chen said.
Voters can take personal notes about referendums into the voting booths, but they must not be displayed publicly, should not be left in the voting station and should not be put into the ballot boxes, Chen said, adding that people who contravene these rules could face a fine of NT$5,000.
Cellphones and other photography equipment are not allowed in voting stations, with transgressors facing fines of NT$30,000 to NT$300,000, Chen said, adding that those who destroy ballots could be fined NT$5,000 to NT$50,000.
Voters cannot wear clothing or carry any stickers or other items with text, symbols or images that are related to referendum questions at the polling stations, CEC spokesperson Chen Chao-chien (陳朝建) said.
The commission said it estimated that all city mayor, county commissioner, and city and county councilor ballots would be counted before 9pm, with the results being validated before 11pm.
It would finish counting all referendum ballots before midnight, meaning that referendum results could be made known as early as 2am tomorrow, the commission said.
Comments will be moderated. Keep comments relevant to the article. Remarks containing abusive and obscene language, personal attacks of any kind or promotion will be removed and the user banned. Final decision will be at the discretion of the Taipei Times.