2018 ELECTIONS: Taipei police on edge as Ko, Yao hold close rallies
The Taipei Police Department yesterday said it was on edge over two large rallies scheduled for tonight by the campaigns of Taipei Mayor Ko Wen-je (柯文哲) and that of his Democratic Progressive Party rival, Pasuya Yao (姚文智), which would be less than 400m apart.
Ko is to hold his campaign rally at the Four Four South Village in Xinyi District (信義), while Yao is to stage a rally at the Taipei City Hall Plaza on Shifu Road.
While concerned over the proximity of the two events and possible disorderly activity, police said they have made adequate preparations, including traffic control.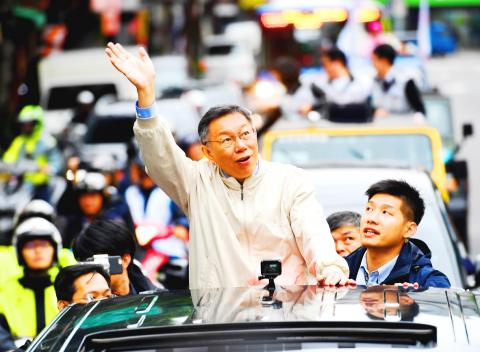 Taipei Mayor Ko Wen-je waves as he campaigns in Taipei yesterday.
Photo: CNA
For Ko's event, all lanes on Xinyi Road leading to the section between Zhuangjing Road and Songzhi Road are to be closed from 10pm today until 6am on Sunday, as well as all lanes east of Zhuangjing Road, police said.
No vehicles are to be allowed along Songqin Street or in the area between Songqin and Xinyi Road Sec 5, Lane 14 during the period, they said.
As for Yao's event, all lanes on Shifu Road in the section between Songgao Road and Songshou Road would be closed for vehicles between midnight today and 5am tomorrow, as would be all lanes on Renai Road leading to the area, they said.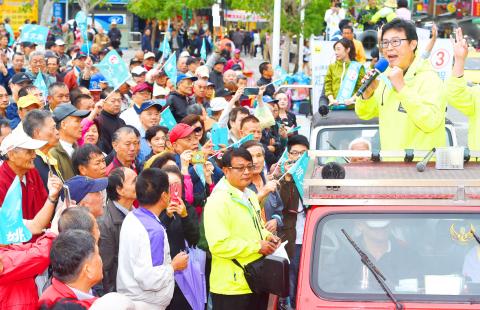 Democratic Progressive Party Taipei mayoral candidate Pasuya Yao, right, campaigns in Taipei yesterday.
Photo: Liao Chen-huei, Taipei Times
Northbound or southbound motorists are advised to take Guangfu S Road, Keelung Road, Songzhi Road or Songren Road, while those heading east or west are advised to take Zhongxiao E Road, Songgao Road or Songshou Road, they said.
Extempore traffic control measures might be enforced depending on the length of the events and the turnout, they added.
The choice of Four Four South Village as the venue for the final campaign rally for Ko on election eve is symbolic of "four years of hard work" and "four more years," Ko's campaign team said, adding that a number of singers have been billed to perform at the event.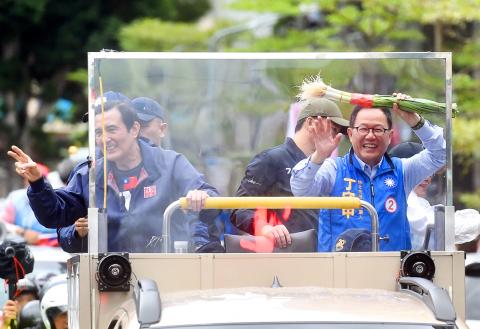 Former president Ma Ying-jeou, left, joins Chinese Nationalist Party (KMT) Taipei mayoral candidate Ting Shou-chung on the campaign trail in Taipei's Zhongshan and Datong districts yesterday.
Photo: Chien Jung-fong, Taipei Times
Yao's campaign team said it has set a goal of gathering 100,000 supporters to send Yao into the mayor's office.
Meanwhile, Chinese Nationalist Party (KMT) Taipei mayoral candidate Ting Shou-chung (丁守中) is to hold his final campaign rally — called "Vote to save Taiwan" — on Ketagalan Boulevard from 6:30pm today.
The event would take on a sentimental undertone as Ting calls on Taipei residents to vote for him, his campaign office said.
KMT Chairman Wu Den-yih (吳敦義), Vice Chairman Hau Lung-bin (郝龍斌) and former president Ma Ying-jeou (馬英九) are scheduled to make an appearance at the event to drum up support for Ting, it said.
Additional reporting by CNA
Comments will be moderated. Keep comments relevant to the article. Remarks containing abusive and obscene language, personal attacks of any kind or promotion will be removed and the user banned. Final decision will be at the discretion of the Taipei Times.