Enterovirus cases near epidemic
The number of enterovirus infection cases reported last week increased 13.8 percent to 10,427, nearing the epidemic threshold of 11,000, Centers for Disease Control (CDC) Epidemic Intelligence Center Director Liu Ting-ping (劉定萍) said yesterday.
The number has increased for two consecutive weeks, she said, adding that the rate was higher in central, northern and eastern Taiwan.
There were no cases of serious complications or deaths associated with the disease in the past two weeks, but 32 serious enterovirus-related complications have been reported this year, she said.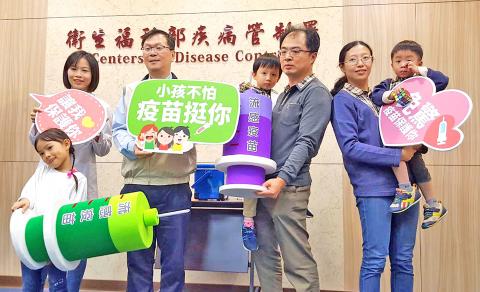 At a news conference in Taipei yesterday, Centers for Disease Control officials urge parents to have their young children vaccinated against influenza as soon as possible.
Photo: CNA
The two peak periods for enterovirus infection are usually between spring and summer, and when school begins in autumn, CDC Deputy Director-General Chuang Jen-hsiang (莊人祥) said.
Fewer cases during the peak periods this year and slightly higher temperatures over the past two weeks might explain last week's increase, he said.
The most commonly circulating viruses in the first period this year were echovirus 11 and enterovirus 71, but the most common virus detected in the past four weeks are of the coxsackie A strain, Chuang said.
While fewer cases are expected as temperatures drop, the CDC urged parents and people who work with small children to wash their hands frequently and to change clothing before approaching young children, especially after visiting crowded places.
If infants or young children begin to exhibit signs of serious complications — sleepiness, disturbed consciousness, low activity, weakness or numbness in the limbs, involuntary muscle jerks, continuous vomiting, shortness of breath or rapid heartbeat — they should be taken to a hospital for immediate treatment, the CDC said.
Meanwhile, 54,673 cases of flu-like illness were reported last week, slightly higher than the week before, while more than 3.91 million doses of the flu vaccine had been administered as of Sunday, exceeding the approximately 3.75 million doses given during the same period last year, the CDC said.
However, the vaccination rate for children under three years old is relatively low, the CDC said, urging parents to have their children vaccinated as soon as possible.
Comments will be moderated. Keep comments relevant to the article. Remarks containing abusive and obscene language, personal attacks of any kind or promotion will be removed and the user banned. Final decision will be at the discretion of the Taipei Times.