ELECTIONS: INTERVIEW: CEC prepared for exceptional elections, vice chair says
As it prepares for the nine-in-one elections and referendums on Saturday next week, the Central Election Commission (CEC) is already thinking about possible amendments to the Referendum Act after the elections to address the alleged use of forged signatures in this year's referendum drives, CEC Vice Chairman Chen Chao-chien said in an interview with 'Liberty Times' (the sister newspaper of the 'Taipei Times') staff reporter Chen Yu-fu
Liberty Times (LT): Saturday's elections will be more complicated than previous elections due to the unprecedented number of referendums to be held at the same time. Is the CEC prepared?
Chen Chao-chien (陳朝建): This election will see voters hold more ballots in their hands than ever before.
Voters in the six special municipalities and Keelung, Hsinchu and Chiayi cities will each receive ballots for mayor, city councilors and borough warden.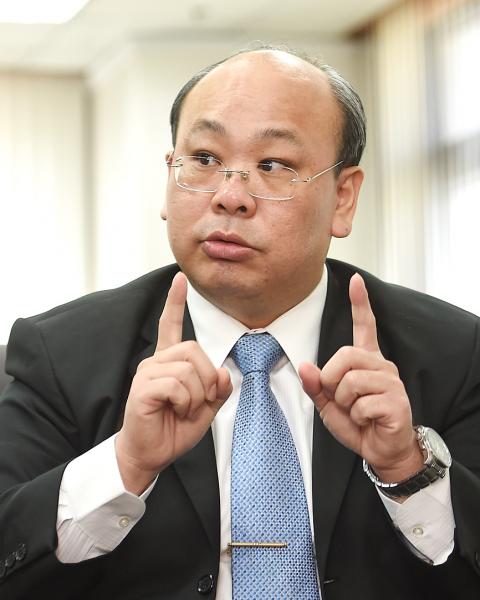 Central Election Commission Vice Chairman Chen Chao-chien gestures during an interview with the "Liberty Times" (sister newspaper of the "Taipei Times") on Wednesday last week.
Photo: Liu Hsin-de, Taipei Times
Voters in special municipalities with Aboriginal electoral districts, as well as voters in all other cities and counties, will receive five ballots.
In addition, all voters will receive 10 ballots for the referendums. As a result, an individual voter could receive up to 15 forms.
On election day, there will be staff at each polling station guiding voters as they collect and cast their ballots for the nine-in-one elections, and then do the same for the referendums.
Voters older than 18 but younger than 20 are to proceed directly to where they collect their referendum ballots, cast their vote and then leave. They may not re-enter the polling station. It is for voters decide whether they want to collect all of the ballots, be it three or five, for the local elections.
The CEC will also respect voters' decisions if they choose to collect some of the ballots for the 10 referendums. It has already made preparations for this.
LT: Certain groups are suspected of accepting funds from China and spreading fake opinion poll results to influence the elections. There is also a so-called Chinese "Internet army" spreading false information. How will the CEC respond to these actions? How will it ensure that the counting process will not be paralyzed if hackers attack its computer systems on election day?
Chen: If there is false information, the CEC would immediately clarify it. If fake news is being spread to smear [candidates], it would work with the National Police Agency. The police have already established a mechanism for handling controversial messages, which the Criminal Investigation Bureau will be overseeing.
Meanwhile, election commissions nationwide will be responsible for handling fake opinion polls and political advertisements in accordance with the regulations listed in the Civil Servants Election and Recall Act (公職人員選舉罷免法).
Since Wednesday and until voting ends on Saturday, releasing or relaying poll results in any form is not allowed. Poll results that were released before Tuesday must meet the laws and regulations, and disclose the sampling method, source of funding of the polling firm and other details. Real names must be registered to publish political advertisements.
In terms of Web sites, the CEC has asked Chunghwa Telecom to take preventive measures. The CEC has prepared by holding several drills, testing connection speeds, monitoring the load on the system, and conducting drills for abnormal situations and in case of a need for backup.
On election day, people are to be able to check the results of the CEC's computerized vote counting on its Web site. In the event of a distributed denial-of-service attack, the CEC would launch a flow cleaning service to block the attack and block connections from abroad. It has also rehearsed calculating the results manually.
LT: In light of the controversies surrounding this year's referendums, such as the Chinese Nationalist Party (KMT) allegedly submitting 11,000 signatures of dead people and forging the signatures of 70,000 others, what changes to the Referendum Act (公民投票法) does the CEC plan to propose?
Chen: The act contains certain inadequacies and we will take four key steps toward strengthening it.
First, we will gather input from all circles, and we will take this abundance of input into consideration.
Second, we will draw from our experience. Putting any law into practice relies on the accumulation of experience.
Third, we will survey legal systems abroad and use the results as a foundation for progress.
Fourth, we will consider academic research, the results of which could help inform the direction of the amendments.
After the elections, the CEC will start working on [proposals for] amendments to the Referendum Act, taking the four steps just described.
In a century of US referendums, the US has also encountered forged signatures, and it has dealt with this through a system whereby any petition must be signed by the voter themselves in the presence of a witness; signature collectors and witnesses are bound by law; and in the event that forged signatures are discovered, the witness is held criminally responsible.
The US system also allows for public lawsuits, which can be brought to courts by anyone within 30 days of a referendum being made public if they discover forged signatures that are not removed upon request; an administrative court can order that a referendum be halted on the basis that it is fraudulent.
LT: Despite allegedly submitting a large number of forged and invalid signatures, the KMT's three referendums were still allowed to advance to the second stage and will be put to a vote. How can laws be amended to prevent this from happening?
Chen: The CEC handled the issue according to the law [which allows the referendums], but the Referendum Review Committee passed a supplementary resolution. It said that fraudulent signatures cannot be allowed in a democracy and filed a legal complaint about the signatures of dead people.
We plan to propose amendments to the law on the basis that the current laws are inadequate. We will cite foreign laws and invite academics — we will forge ahead. We also plan to re-evaluate the time limits on referendum proposals.
Another approach could be to reinstate the previous requirement that signatures need to be accompanied by copies of national identification cards. That would help those checking signatures, and if a person is found to have died before a signature was submitted, then obviously someone has signed on their behalf, which constitutes fraud and would result in an investigation.
The CEC is an independent body and will not take a biased position not mandated by the law. It will perform its legal duties and hopefully, a better legal foundation could be created for it to act on.
Translated by staff writers Sherry Hsiao and William Hetherington
Comments will be moderated. Keep comments relevant to the article. Remarks containing abusive and obscene language, personal attacks of any kind or promotion will be removed and the user banned. Final decision will be at the discretion of the Taipei Times.