Groups warn of accidental smuggling
TRAVEL SMART: Twenty-seven Taiwanese have been sentenced to death in Indonesia on drug-related charges, some of whom say they did not know what they were carrying
Representatives of the nation's overseas emergency assistance associations yesterday urged Taiwanese to refrain from helping others carry packages of unknown content to Southeast Asia to avoid becoming an "unknowing courier."
Despite some Southeast Asian countries being known for their strict laws against drugs, there have been many cases in which Indonesian customs officials have caught Taiwanese carrying illegal drugs, said Chiang Ching-cheng (江慶誠), an executive member of an overseas emergency assistance association for Taiwanese in Jakarta.
"We are here to remind our people and overseas expatriates... Do not help a stranger or even your friend carry a package [to these countries]. You could end up in jail for [carrying drugs as little as] 5g," Chiang told a news conference in Taipei.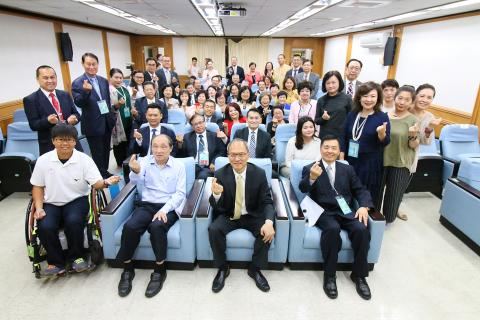 Representatives of overseas emergency assistance associations pose for a photograph at the Overseas Community Affairs Council in Taipei yesterday.
Photo courtesy of the Overseas Community Affairs Council
Statistics show that 27 Taiwanese have been sentenced to death in Indonesia for drug charges.
While many committed the crimes knowingly, some have told the courts that they were tricked by drug-trafficking rings into becoming a "blind" mule, because they failed to gain detailed knowledge of what the job they had been hired for actually entailed.
There have also been cases in which Taiwanese were arrested on the Indonesian border for carrying packages they said they did not know contained illegal drugs.
The Overseas Community Affairs Council has over the past 18 months endeavored to encourage Taiwanese expatriates in major cities around the world to establish emergency assistance associations using their legal, media and business connections, the council said.
The council said that it has successfully paved the way for the establishment of 62 of such associations.
At yesterday's news conference, council Minister Wu Hsin-hsing (吳新興) thanked the expatriates for their kindness in helping create a "safety net" in major corners of the world.
According to the council, the emergency assistance associations have so far provided assistance in 38 cases, including when a Taiwanese was killed by a hippopotamus in Kenya in August and when Taiwanese were injured during a terrorist attack in Barcelona in August last year.
Comments will be moderated. Keep comments relevant to the article. Remarks containing abusive and obscene language, personal attacks of any kind or promotion will be removed and the user banned. Final decision will be at the discretion of the Taipei Times.