INTERVIEW: Taiwan can inspire change: Human Rights Foundation
Alex Gladstein, chief strategy officer at the New York-based Human Rights Foundation, which hosts the annual Oslo Freedom Forum, in an interview with 'Taipei Times' staff reporter Stacy Hsu said that he plans to build a community of people who care about freedom and civil liberty in Asia using Taiwan as a base
Taipei Times (TT): Why did you decide to bring the Oslo Freedom Forum to Asia and why did you choose Taiwan as the first Asian host?
Gladstein: Asia is home to more than half of the world's population, with about 4.4 billion people. If we are ignoring Asia, we are ignoring half of the world, so it is important to build an Oslo Freedom Forum community here.
Taiwan has an inspiring journey to tell. People like Egyptian actor and LGBT rights activist Omar Sharif Jr get really inspired when they hear about Taiwan's story as a nation, which, without a civil war, went from dictatorship to democracy over time. That is really impressive and inspiring for all the people coming here from Russia, Bahrain and Egypt. They have their own stories to share, but they are also going to learn a lot from Taiwan.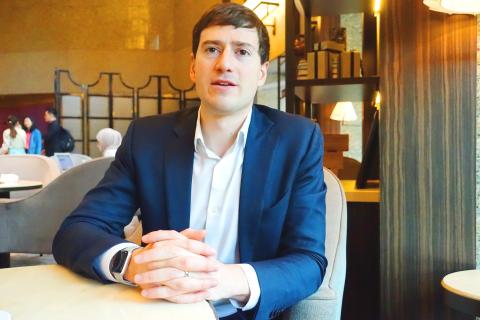 Human Rights Foundation chief strategy officer Alex Gladstein speaks during an interview in Taipei on Friday.
Photo: Stacy Hsu, Taipei Times
The second reason is that it is a Chinese democracy. It is really important because Beijing says it all the time that the Chinese people are not ready for democracy, but Taiwan is living proof that they are liars.
Another reason is technology, which is going to be critical for the future of human rights. A recent Bloomberg article reported that the Chinese government put a backdoor on all Apple equipment whey they were making the chips. All of the devices we use can be used to spy on us, whether it is software like [China's messaging app] WeChat, or hardware like a Chinese-made phone.
Technology is going to play a key role in whether or not we are going to live under surveillance. Taiwan is going to be really important, because you can make a lot of such equipment here, at companies like Taiwan Semiconductor Manufacturing Co, Asustek Computer Inc and others.
I would much rather trust a smartphone made here than in China. A lot of people do not realize how absolutely critical the semiconductor industry is to human rights.
TT: By choosing Taiwan as the first Asian host of the forum, are you trying to send a message to autocrats and dictators in the region?
Gladstein: We are not trying to [send a] message or talk to dictators, because we are not trying to scare them through an adversarial message. Our message is one of a positive nature for activists.
We want to tell activists in the region that they have a home and a place to come to — to learn how they can be more effective in getting resources, how technology can help them, how to avoid surveillance and how to bring democracy to their own country. They can come to Taiwan and Taiwan can be the center for that.
I want to make sure that we are on a positive message, not an adversarial and aggressive one. This is a positive conference. Too often, human rights activists are too negative and aggressive. We are trying to bring a narrative where we are building a community of people who care about civil liberty and freedom here.
We also hope [next year's forum] will be here, but it depends on how well this [year's forum] goes. Our goal is to build [a community for Asia] here and so far it has been an amazing reception.
TT: Taiwan has a vibrant civic society with scores of non-governmental organizations dedicated to the cause of advancing human rights, freedom and democracy. Do you have plans to cooperate with them?
Gladstein: Last time we were here, we visited many different activist groups, such as the Taiwan Association for Human Rights and the Open Culture Foundation. Of course we want to include all of them. Our goal is to give them a resource and a place where they can come and learn from other organizations regionally, in the hope that they will receive more support moving forward.
However, our mission is to help people in closed societies. We are not focusing on Taiwan. Taiwan is like the home base for this event and of course we want Taiwanese organizations to be involved, but our focus is on dictatorships.
We believe that Taiwanese can play a key role in that by sharing their own story of how they got here and what they are doing now, such as how Taiwanese people are trying to change the public history of the country, so that young people are not learning about propaganda, but are learning about real history.
TT: You have spoken quite positively about Taiwan's democracy. Are there areas where you think the country could make a better effort?
Gladstein: No country is perfect. Taiwanese society has a lot of problems, like the economy and jobs. There are promises of gay rights, but it has not happened yet. There is also the death penalty issue.
If Taiwan actually makes same-sex marriage operational, it will be the first of hopefully many [in the region]. It is the same way in the US, where one state legalized same-sex marriage and then it started to spread.
You are going to see the same thing in Asia, hopefully, but Taiwan has to be the first. You can lead the way. If Taiwan is successful, it will be an indicator for the region and others will try to copy it.
Comments will be moderated. Keep comments relevant to the article. Remarks containing abusive and obscene language, personal attacks of any kind or promotion will be removed and the user banned. Final decision will be at the discretion of the Taipei Times.