ELECTIONS: Tsai vows more funding, investment for Kaohsiung
REBALANCING: The president said that the government used to concentrate its resources in the north, but her administration would make it a base for its main policies
President Tsai Ing-wen (蔡英文) promised to make Kaohsiung a base for the implementation of the Cabinet's New Southbound Policy during a temple tour in the city yesterday.
The national government used to focus more on developing the north than the south, Tsai said during a visit to the Tianhou Temple in Kaohsiung's Cishan District (旗山), adding that it had not given Kaohsiung enough resources.
The Democratic Progressive Party (DPP) government would make Kaohsiung the base from which it executes her administration's New Southbound Policy, as well as an important center of technology development for the national defense industry, she said.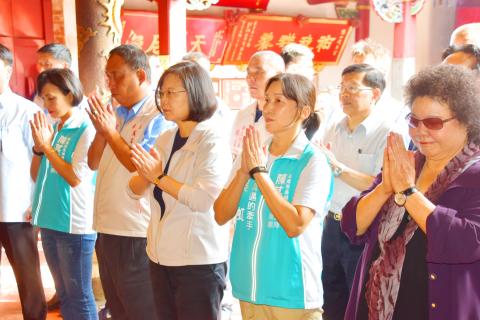 From right, Presidential Office Secretary-General Chen Chu, Democratic Progressive Party (DPP) mayoral candidate Chen Chi-mai's wife, Wu Hong, and President Tsai Ing-wen yesterday pray at the Tianhou Temple in Cishan District, Kaohsiung.
Photo: Su Fu-nan, Taipei Times
All the projects necessary to make the city a base have already been approved by the central government, Tsai said.
In addition, semiconductor maker Winbond Electronics Corp plans to invest NT$300 billion (US$9.76 billion) in Kaohsiung, she said, adding that it would be only the beginning of many more investments by high-tech companies.
Tsai was accompanied by Presidential Office Secretary-General Chen Chu (陳菊), who in April stepped down as Kaohsiung mayor to take up the post, Democratic Progressive Party Legislator Chiu Yi-ying (邱議瑩) and DPP mayoral candidate Chen Chi-mai's (陳其邁) wife, Wu Hong (吳虹).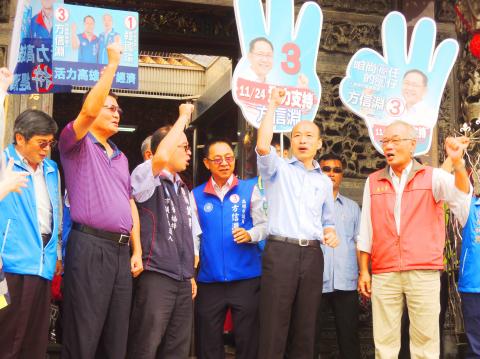 Chinese Nationalist Party (KMT) Kaohsiung mayoral candidate Han Kuo-yu, second right, campaigns in Kaohsiung yesterday.
Photo: Wang Jung-hsiang, Taipei Times
They were greeted by supporters, who shouted "Go, President Tsai" and "Go, Chen Chi-mai."
In a speech to supporters, Tsai said that she cares about the Nov. 24 elections and even more about Kaohsiung's future, and her job as president is to work with Kaohsiung voters and help them obtain more support from the national government.
"Ever since I was elected president in 2016, I have been trying to bring development projects to Kaohsiung, so that young people would have more career opportunities and become an engine for the city's development," Tsai said, adding that Kaohsiung had undergone dramatic change under former DPP mayors Frank Hsieh (謝長廷) and Chen Chu, and has been recognized as one of the world's most livable cities.
Tsai, the DPP chairperson, urged people to vote for Chen Chi-mai.
"We have come to the final 20 days before the election. Kaohsiung would pass up a great opportunity if it chooses the wrong person," she said. "Chen Chi-mai is a talented person, whom the DPP has spent 20 years cultivating and who has extensive experience in politics."
Meanwhile, Chinese Nationalist Party (KMT) Kaohsiung mayoral candidate Han Kuo-yu (韓國瑜) yesterday said that he looks forward to a debate with Chen Chi-mai in which they could present their visions for the city.
Han was responding to a call from Chen Chi-mai's camp for a debate while campaigning in Yongan (永安) and Mituo (彌陀) districts, which have traditionally voted for DPP candidates.
Han said he was on good terms with the farmers when he was Taipei Agricultural Products Marketing Co president and never thought he would one day run for Kaohsiung mayor.
He vowed he would help farmers and fishers find buyers for their products.
The working class in Kaohsiung has had enough and is screaming for change and a better life, Han said, adding that people would use their votes to wake up Kaohsiung and create a better city.
Additional reporting by Chen Wen-chan
Comments will be moderated. Keep comments relevant to the article. Remarks containing abusive and obscene language, personal attacks of any kind or promotion will be removed and the user banned. Final decision will be at the discretion of the Taipei Times.