Armored vehicles pass tests, to start mass production
Prototypes of an armored vehicle that the nation is developing have passed their tests and are soon to enter mass production, a military official said yesterday.
Four prototypes of the "Clouded Leopard" eight-wheeled armored vehicle passed the required tests on Friday last week, Army Lieutenant General Fang Mao-hung (房茂宏), head of the Armaments Bureau, told lawmakers.
The vehicles, officially called the Taiwan Infantry Fighting Vehicle (TIFV), have passed all 62 categories in the primary pre-mass production tests while failing only two categories in the secondary pre-mass production tests, Fang said.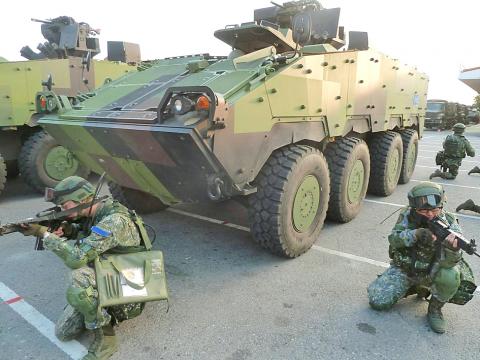 An undated photograph shows soldiers take up kneeling positions around eight-wheeled Taiwan Infantry Fighting Vehicles, known as Clouded Leopards, at a military base.
Photo courtesy of the Army Command Headquarters
Because the test results have met the required standards, the military has initiated mass production of the vehicle — a variant of the CM-32 Clouded Leopard — equipped with a 30mm chain gun, he said.
A total of 284 vehicles are expected to be made in the coming years, Fang said, without elaborating.
A military official said that Taiwan has ordered Orbital ATK 30mm Mk44 Bushmaster II cannons to be mounted on the armored vehicle.
Compared with the CM-32 models that are armed with 40mm automatic grenade launchers, the 30mm cannon offers better anti-tank capabilities and precision firing of several rounds in rapid succession, the source said on condition of anonymity because the person was not authorized to comment on the issue publicly.
Asked if mass production of the CM-32 variant would affect the nation's plan to buy M1A2 tanks from the US, Army General Yang Hai-ming (楊海明) said it would not, because the new prototype and the M1A2 are complementary.
The military in July announced plans to allocate NT$30 billion (US$969.4 million) to procure 108 M1A2 tanks from the US to replace its aging battle tanks.
Whether the US would approve the arms procurement request is still uncertain.
Comments will be moderated. Keep comments relevant to the article. Remarks containing abusive and obscene language, personal attacks of any kind or promotion will be removed and the user banned. Final decision will be at the discretion of the Taipei Times.