More foreign cyclists to take on mountain race
RISING HIGH: European professionals Laurens ten Dam and Tom Davies are among 412 overseas riders to take on the likes of Taiwanese champion Sergio Tu
More than 700 cyclists from around the world are to compete in this year's Taiwan KOM Challenge on Friday, organizers said.
The "King of the Mountain" race is the highlight of the Taiwan Cycling Festival organized by the Tourism Bureau.
The 105km route begins at Hualien's Cisingtan Beach (七星潭) and finishes in Wuling (武嶺) on Hehuanshan (合歡山), 3,275m above sea level.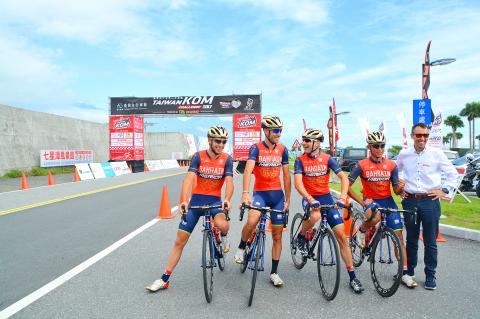 Taiwan KOM Challenge riders pose in Hualien County on Oct. 19 last year.
Photo: Wang Chun-chi, Taipei Times
About 90km of the 105km route has an average incline of 7 percent. The most challenging part is the final 10km, where cyclists have to battle inclines from 17 to 27 percent.
The Taiwan Cyclist Federation, which organizes the race, has increased the top prize to NT$500,000 this year.
Tourism Bureau deputy director-general Chang Hsi-tsung (張錫聰) said that the KOM Challenge has attracted more cyclists from overseas, as it is comparable to cycling in the Alps.
A warm-up race on Wednesday starts at Baishawan Bay (白沙灣) in New Taipei City's Shihmen District (石門) and follows the North Coast and Yangjin highway to the Xiaoguanyin parking lot on Yangmingshan in Taipei's Beitou District (北投).
The 36.8km route starts at sea level and finishes at 815m.
Some professional European riders who have registered for the KOM Challenge are to participate in the warm-up race, including Dutch cyclist Laurens ten Dam and British cyclist Tom Davies, the federation said.
Ten Dam finished eighth in the 2012 Vuelta a Espana and ninth in the 2014 Tour de France.
Taiwanese cyclist Sergio Tu (杜志濠), who won the National Cycling Road Race Championship this year, is also to compete in the warm-up race, the federation said.
"We hope that the warm-up for the Taiwan KOM Challenge will encourage more foreign cyclists to arrive in the nation earlier. They can experience cycling tours in Taiwan in a more profound way," the federation said.
The KOM has drawn other top cyclists, including 2017 UK National Hill-Climb Champion Dan Evans and Australian Lucy Kennedy. Kennedy finished second in the Australian Time Trial Championships.
France's Damien Monier and Briton Hayley Simmonds, who won the 2015 and 2017 KOM in the men's and women's categories respectively, are also to compete this year.
The number of KOM riders has risen since the race was first held in 2012, federation statistics showed.
Cyclists from overseas have begun to outnumber those from Taiwan, they showed.
This year, 412 are from overseas and 300 are Taiwanese, they showed.
Comments will be moderated. Keep comments relevant to the article. Remarks containing abusive and obscene language, personal attacks of any kind or promotion will be removed and the user banned. Final decision will be at the discretion of the Taipei Times.