NCKU to launch 'space weather' forecast system
AWAITING LIFTOFF: The system can forecast ionospheric changes at altitudes of between 100km and 1,000km and it would come into operation when Formosat-7 is launched
A "space weather" forecast system developed by National Cheng Kung University (NCKU) would help improve the precision of devices using the global positioning system (GPS), such as aircraft and uncrewed vehicles, researchers said yesterday, adding that it could be launched next year.
"Fluctuations in space weather have a great impact on any self-driving systems," as phenomena such as solar flares and solar storms can disrupt GPS and radio signals, wreaking havoc on air and maritime traffic, NCKU Department of Earth Sciences professor Charles Lin (林建宏) told a news conference in Taipei.
Solar flares recorded in September last year interfered with radio communications in Puerto Rico and even caused a flight departing the US territory to lose communication with ground stations for an hour, Lin said.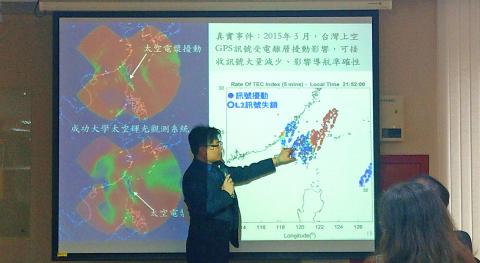 Charles Lin, a professor in the Department of Earth Sciences at National Cheng Kung University, introduces the Formosat-7 satellite project scheduled to launch next year at a news conference in Taipei yesterday.
Photo: CNA
Given the potential impact of space weather, many nations such as the US, Britain and Japan, have established centers for space weather forecasts, while the nation's Central Weather Bureau last year also set up a Space Weather Operational Office, he said.
To improve the nation's space weather forecasts, Lin and assistant professor Chen Chia-hung (陳佳宏) since 2009 have been using the data collected by the Formosat-3 satellite and working with the National Space Organization (NSPO) and US National Center for Atmospheric Research to build a forecast system.
The system can forecast ionospheric changes — the key to the fluctuations in space weather — at altitudes of between 100km and 1,000km, Lin said, adding that it would come into operation when the nation's Formosat-7 constellation is launched.
Consisting of six satellites, the Formosat-7 constellation could be launched next year, but the actual date remains uncertain, NSPO Director-General Lin Chun-liang (林俊良) said, adding that it is waiting for information from the US Air Force, which has a contract with SpaceX to launch the satellite constellation.
Of the world's 5 million pieces of radio occultation data, 4.5 million were collected by Formosat-3, while Formosat-7 is expected to provide three or four times more data, the NSPO said.
Once it is launched, Formosat-7 would join a global effort to research space weather along with two NASA satellites, which demonstrates the nation's crucial role in the research, Charles Lin said.
In addition to NCKU, academics at National Central University, National Chiao Tung University, National Taiwan Normal University and Academia Sinica's Research Center for Environmental Changes also utilize data collected by the nation's satellites to study the atmospheric sciences, NSPO researcher Chu Chung-hui (朱崇惠) said.
Comments will be moderated. Keep comments relevant to the article. Remarks containing abusive and obscene language, personal attacks of any kind or promotion will be removed and the user banned. Final decision will be at the discretion of the Taipei Times.