CEC suspects fraud in KMT's three proposals
The Central Election Commission (CEC) yesterday said it has found about 11,000 signatures belonging to dead people on each of the three referendum petitions submitted by the Chinese Nationalist Party (KMT).
That similar numbers of signatures for each petition belonged to deceased people is indicative of widespread forgery, a commission official said on condition of anonymity.
The KMT has proposed three referendum proposals: phasing out thermal power plants; scrapping the proposed coal-fired Shenao Power Plant (深澳電廠); and keeping the import ban on food products from five Japan prefectures that was imposed after the 2011 Fukushima Dai-ichi nuclear power plant disaster.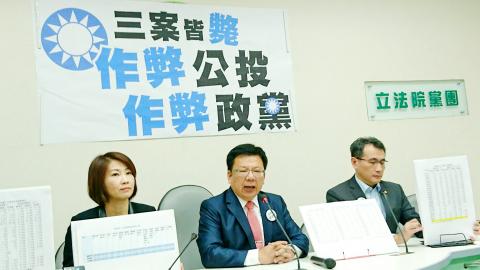 Democratic Progressive Party Legislator Lee Chun-yi, center, is joined by fellow DPP legislators Chou Chun-mi, left, and Cheng Yun-peng as he speaks at a news conference at the Legislative Yuan in Taipei yesterday, accusing the Chinese Nationalist Party (KMT) of cheating in its referendum signature drives.
Photo: Chung Li-hua, Taipei Times
On Tuesday, the commission cleared KMT Legislator Lu Shiow-yen's (盧秀燕) referendum proposal on phasing out thermal plants for inclusion in the Nov. 24 nine-in-one elctions, albeit after vowing to press criminal charges over some signatures that were allegedly forged.
For KMT caucus whip Lin Te-fu's (林德福) referendum proposal to cancel the planned Shenao Power Plant, 492,818 signatures were submitted, including 179,653 invalid ones, of which 11,461 belonged to deceased people, the official said.
The 490,379 signatures garnered for KMT Vice Chairman Hau Lung-bin's (郝龍斌) import ban referendum contained 178,479 invalid signatures, including 11,534 belonging to deceased people, the official said.
Similarly, petitions supporting the proposal initiated by Lu contained 11,849 signatures belonging to dead people, the commission said.
"It is a reasonable inference that the identities of the same dead people were used across all three proposals," the official said.
Moreover, the Shenao Power Plant referendum proposal contained 72,184 suspected forgeries, 18,448 duplicate signatures, 14,188 erroneous or illegible names, 12,251 erroneous or illegible ID numbers, and 33,937 erroneous registered addresses, the commission said.
The commission is to consider whether Hau's and Lin's proposals could qualify for inclusion in the ballot in a series of meetings scheduled to start on Tuesday, it said.
Democratic Progressive Party (DPP) lawmakers yesterday called a news conference in Taipei and accused the KMT of cheating in its referendum drives.
"If three students have the same grades and made the same mistakes in a test, they are probably cheating," DPP Legislator Lee Chun-yi (李俊俋) said. "It is within reasonable doubt that the KMT is cheating in a systematic and structural way."
The number of signatures that the commission suspects to be forgeries in the three proposals are similar — 77,194 for Lu's proposal, 72,810 for Hau's and 72,184 for Lin's — which is also suggestive of fraud, DPP Legislator Lai Jui-lung (賴瑞隆) said.
"All three proposals have about 35,000 petitions from Kaohsiung that are suspected of having forged signatures, or about half of the total," he said.
KMT Kaohsiung mayoral candidate Han Kuo-yu (韓國瑜) had collected the signatures as the KMT's Kaohsiung chapter director and he should be held responsible for the irregularities, Lai said.
The KMT should order an internal investigation and apologize to the families of the deceased whose names appeared on the petitions, DPP Legislator Cheng Yun-peng (鄭運鵬) said.
"You only die once, then the KMT exploits you three times," Cheng said.
Comments will be moderated. Keep comments relevant to the article. Remarks containing abusive and obscene language, personal attacks of any kind or promotion will be removed and the user banned. Final decision will be at the discretion of the Taipei Times.