Top parties' picks corrupt, NPP says
DPP, KMT ACCUSED: Citizens' Congress Watch executive director Chang Hung-lin said it was unbelievable that people involved in corruption could be nominated
A significant number of the city and county councilor candidates nominated by the Democratic Progressive Party (DPP) and the Chinese Nationalist Party (KMT) are either on trial or have been found guilty of corruption, the New Power Party (NPP) said yesterday.
The NPP said it reviewed 1,769 DPP and KMT candidates for the Nov. 24 nine-in-one elections and found that more than 100 have either been charged with or found guilty of bribery, graft, electoral fraud, improper use of influence or other forms of corruption.
Thirty-eight DPP candidates, or 9.6 percent, have a dubious history, while 67 KMT candidates, or 13 percent, have faced charges at some point, the NPP said.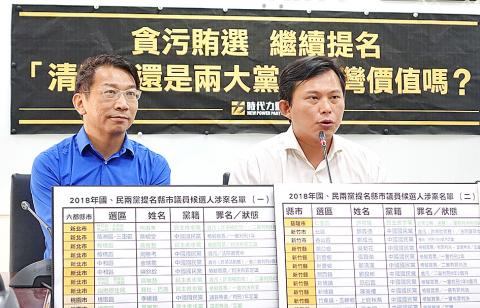 New Power Party (NPP) Executive Chairman Huang Kuo-chang, right, and NPP legislative caucus whip Hsu Yung-ming take part in a news conference in Taipei yesterday.
Photo: Liu Hsin-de, Taipei Times
Pingtung County has the most candidates involved in corruption, with 17 found guilty, while among the special municipalities, Kaohsiung topped the list with 10 candidates who have been found guilty of corruption, NPP data showed.
The findings show there is only a small gap between the percentages of councilor candidates involved in corruption from the two major parties, NPP caucus whip Hsu Yung-ming (徐永明) said, adding: "Do the DPP and KMT consider it acceptable to nominate candidates with records of corruption?"
NPP Executive Chairman Huang Kuo-chang (黃國昌) said that President Tsai Ing-wen (蔡英文), who is also DPP chairperson, and KMT Chairman Wu Den-yih (吳敦義) should explain why the parties have nominated such candidates and whether they support them despite their involvement in corruption cases.
"The list of candidates speaks to the two parties' commitment to democracy," Huang said. "The parties are permitting them to damage the foundation of local democracy by exchanging money and benefits."
That candidates involved in corruption can still be nominated for elected office is unbelievable and must be condemned, Citizens' Congress Watch executive director Chang Hung-lin (張宏林) said.
"A properly functioning parliament is essential to a functional nation, yet Taiwan's local councils are often where the legacy of authoritarianism has been best preserved," Chang said.
"Until the day local councils are purged of corruption, Taiwan cannot be a functional democracy," he said.
"If the two parties are unwilling to commit to improving Taiwan's democracy, the nation's legislative bodies will continue to be controlled by the same clans," he said, adding that people should vote against corrupt candidates.
The Central Election Commission should document the corruption records of candidates in election notices, instead of simply permitting candidates to boast of their achievements and promote their platforms, he said.
The NPP data only covered the two major parties, Chang said, adding that the actual number of candidates involved in corruption must be much higher.
He said that more information should be disclosed.
Comments will be moderated. Keep comments relevant to the article. Remarks containing abusive and obscene language, personal attacks of any kind or promotion will be removed and the user banned. Final decision will be at the discretion of the Taipei Times.