Ko Wen-je leading Taipei mayoral race, polls show
Opinion polls by two local media outlets released yesterday showed Taipei Mayor Ko Wen-je (柯文哲) in the lead ahead of the nine-in-one elections on Nov. 24.
A poll commissioned by the Chinese-language Apple Daily and conducted by the Institute of Public Opinion at Shih Hsin University showed Ko leading with 34.9 percent of the vote, 4.1 percentage points higher than Chinese Nationalist Party (KMT) candidate Ting Shou-chung (丁守中) at 30.8 percent.
Democratic Progressive Party (DPP) candidate Pasuya Yao (姚文智) had 10.4 percent of the vote, while 21.9 percent of respondents said they were undecided or declined to answer.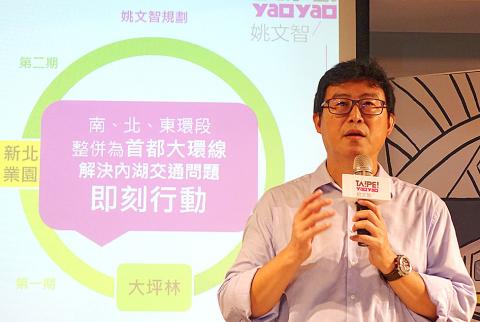 Democratic Progressive Party Taipei mayoral candidate Pasuya Yao speaks at a news conference in Taipei yesterday.
Photo: George Tsorng, Taipei Times
Of those polled, 61.6 percent who identified as pan-blue camp supporters said they back Ting, with 23.1 percent supporting Ko.
The poll showed that 45.3 percent of pan-green camp supporters favored Ko and 44.9 supported Yao, while 43.3 percent of neutral respondents supported Ko, 18.2 percent support Ting and 4.4 percent support Yao.
The telephone poll was conducted on Tuesday and Wednesday last week, and collected 1,068 valid responses.
Another poll conducted by online news outlet ETtoday showed Ko had the highest support rating of 41.7 percent, followed by Ting at 29.9 percent and Yao at 8.4 percent.
Independent candidate Li Hsi-kun (李錫錕) had 1.1 percent, while 5.6 percent said they support no one and 13.3 percent were undecided or refused to answer.
ETtoday's poll was conducted between Sept. 3 and Sept. 9 via an online survey of eligible voters under 50 years old and computer-assisted telephone interviews of those older than 50. It collected 2,408 valid responses.
After the Apple Daily poll showed that voters are most confident in Ting's ability to solve the issues surrounding the Taipei Dome construction project, Ko yesterday said that the project shows that many minor problems can add up to become a "big mess," but added that everything must be safe and legal, and the project would be discussed at an urban design review meeting on Thursday.
He also said it is unlikely that the DPP would persuade Yao to withdraw from the mayoral election after a rumor circulated that the party could do so if his support rating remains below 15 percent.
Yao told a news conference yesterday that although the first and second phase of the Taipei Mass Rapid Transit circular line have been completed, a north-south public transport corridor to connect the city's Dazhi area (大直) and Nangang (南港) and Xinyi (信義) districts is still needed to solve the city's traffic problems.
Additional reporting by Chou Yen-yu
Comments will be moderated. Keep comments relevant to the article. Remarks containing abusive and obscene language, personal attacks of any kind or promotion will be removed and the user banned. Final decision will be at the discretion of the Taipei Times.