Shenao plant poses health risk: report
More than 570 people would die within 15 years once the proposed coal-fired Shenao power plant in New Taipei City begins operations due to the air pollution it would produce, a Greenpeace report showed yesterday.
Although the plan to rebuild the plant was approved by the Environmental Protection Administration's (EPA) Environmental Impact Assessment Committee, one criticism against the plan is that lacks a government assessment of the health risks posed to people living near the plant and farther away.
The Greenpeace health risk assessment was conducted by Lin Hsien-ho (林先和), an associate professor of epidemiology and preventive medicine at National Taiwan University (NTU), NTU College of Public Health dean Chan Chang-chuan (詹長權) and Tsuang Ben-jei (莊秉傑), a professor of environmental engineering at National Chung Hsin University.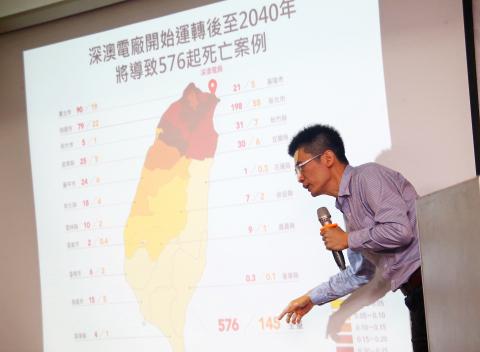 Lin Hsien-ho, an associate professor of epidemiology and preventive medicine at National Taiwan University, speaks at a news conference in Taipei yesterday about the health risks forecast if the Shenao power plant is rebuilt.
Photo: CNA
Their assessment showed that between 2025 and 2040, 576 people would die of heart disease, strokes, lung cancer or chronic obstructive pulmonary disease due to constant exposure to fine particulate matter with a diameter of 2.5 micrometers or less (PM2.5) from the plant, with 145 of them dying before the age of 70.
Those four illnesses have been scientifically proven to be directly related to exposure to PM2.5, they said.
Among the estimated deaths, 198 would be in New Taipei City, 90 in Taipei, 79 in Taoyuan, 31 in Hsinchu County, 30 in Yilan County, 25 in Miaoli County, 24 in Taichung, 21 in Keelung, 18 in Changhua County and 15 in Kaohisung, the report said.
Deaths in the rest of the counties would be less than 10, except for Taitung County, which would be the only one not affected, the report said.
Lin, Chan and Tsuang said they used the Gaussian trajectory transfer-coefficient modeling system (GTx) and health risk assessment model to simulate the air quality in Taiwan after the plant begins operations.
New Taipei City, Taoyuan and Keelung as well as Hsinchu and Yilan counties would see an average annual increase of PM2.5 exceeding 0.2 micrograms per cubic meter, they forecast.
In central Taiwan, the average annual increase of PM2.5 would vary from 0.05 to 0.14 microgram per cubic meter, while southern and eastern Taiwan would see an increase of PM2.5 between 0.004 and 0.03 micrograms per cubic meter, the report showed.
The increase of PM2.5 nationwide might seem small, but the impact must be gauged on a large group of people in the long run, Lin said.
Taipei, for example, might see 15 people die in 15 years if there is an annual increase of PM2.5 by 0.16 micrograms per cubic meter, he said.
The assessment only examined the estimated deaths from four diseases as a result of an increase in PM2.5 from the plant, but did not examine the impact of other pollutants that might be emitted by the plant, Lin said.
They also did not estimate the number of people who could become ill because of the pollutants or the medical costs that might be incurred as a result, he said.
Tsuang defended the credibility of the assessment, saying that Taiwan Power Co provided an air quality simulation for just two months in its report to the EPA committee, but the Greenpeace air quality simulation was for one year and used a high-resolution digital elevation model, which could simulate how the air quality along the northeast coast would deteriorate.
The EPA yesterday said it needed to determine whether using the Gaussian trajectory transfer-coefficient modeling system to gauge health risks from the power plant was appropriate before responding to the Greenpeace report.
Additional reporting by Liu Li-jen
Comments will be moderated. Keep comments relevant to the article. Remarks containing abusive and obscene language, personal attacks of any kind or promotion will be removed and the user banned. Final decision will be at the discretion of the Taipei Times.