Earthquake in Hokkaido strands over 700 tourists
SYMPATHY INSTRUCTIONS: A netizen telephoned the representative office in Japan to ask for help, but was told that it could not, prompting a ministerial redress
More than 700 Taiwanese tourists were unable to return from Hokkaido, Japan, after New Chitose Airport was closed following a magnitude 6.6 earthquake yesterday morning.
The Tourism Bureau said it had received updates from some of the nation's large travel agencies with tour groups in Japan.
By 4pm yesterday, 712 Taiwanese tourists were still in Hokkaido, while 471 people postponed or canceled tours to Hokkaido because of the earthquake, the agencies said.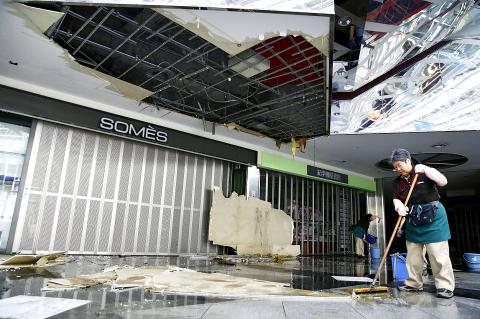 Workers at the New Chitose Airport clean up after ceilings were damaged by an earthquake centered in Chitose, Hokkaido, Japan, yesterday.
Photo: AP
Tourists could not return to Taiwan from Hokkaido yesterday because operations at the airport had been shut down, the bureau said, adding that the power supply was cut in many places in Hokkaido because of the earthquake.
The top priority for the travel agencies was to find accommodation for the tourists, the bureau said.
The travel agencies said that they would have a better idea of how to bring the tourists home when airline companies announce flight arrangements.
Elsewhere in Japan, 742 Taiwanese tourists were in the Kansai region as of 4pm yesterday after their trips home were postponed because of Typhoon Jebi, the bureau said, adding that some were trying to get alternative flights.
A netizen said they telephoned the Taipei Economic and Cultural Representative Office in Japan last night to ask whether the office could help find accommodation.
The office said there was nothing it could do, because accommodation was a matter of individual choice, the netizen said.
The Ministry of Foreign Affairs said that its office in Japan had indeed received such a request.
Office personnel have been instructed to sympathize with tourists and offer assistance as much as possible, the ministry said.
Japan is one of the top travel destinations for Taiwanese.
However, damage to infrastructure by Typhoon Jebi and the earthquake have travel agents and airlines worrying that sales revenue this month would be affected.
Ever Fun Travel Services Corp deputy manager Tsai Ching-hui (蔡錦惠), who is also a member of the Travel Quality Assurance Association's Northeast Asian Tours Committee, said that the tourism industry estimated that the number of people traveling to Japan this month as part of tour groups is expected to drop by 20 percent due to the storm and earthquake.
Tours to Osaka and Kyoto are likely to be affected the most, as Kansai International Airport, one of Japan's three largest airports, was severely damaged, she said, adding that the Japanese government has accelerated efforts to resume normal operations at the airport.
Many airlines have announced that flights to Kansai would be canceled until at least early next week, Tsai said, adding that this has caused many tourists to postpone trips to next month or November.
When airlines would resume flights would depend on how fast the airport can begin normal operations, she said.
The earthquake mainly disrupted the power supply in Hokkaido, Tsai said, adding that tour groups might not be disrupted as much if electricity is restored promptly.
"We might feel the effects of the natural disasters keenly this month, but they should not affect tours next month or in November," she said, adding that September is an off-peak time for tours to Japan.
China Airlines and EVA Airways have canceled flights between Taiwan and Sapporo today.
Comments will be moderated. Keep comments relevant to the article. Remarks containing abusive and obscene language, personal attacks of any kind or promotion will be removed and the user banned. Final decision will be at the discretion of the Taipei Times.