Wu Den-yih rejects 'chicken man'
The Chinese Nationalist Party's (KMT) leadership will not allow the winning design of the party's mascot competition to become its logo, KMT Chairman Wu Den-yih (吳敦義) said yesterday.
"I do not think [the design] looks good," he told reporters after viewing an exhibition at the National Sun Yat-sen Memorial Hall commemorating the 50th anniversary of the implementation of the nine-year compulsory education program.
The winning design, which looks like a rubber chicken with a baby-faced blue squiggle on its chest and the KMT's emblem on its rump, was created by 18-year-old Wu Ching-ping (吳婧萍) for a contest organized by the KMT Youth Department.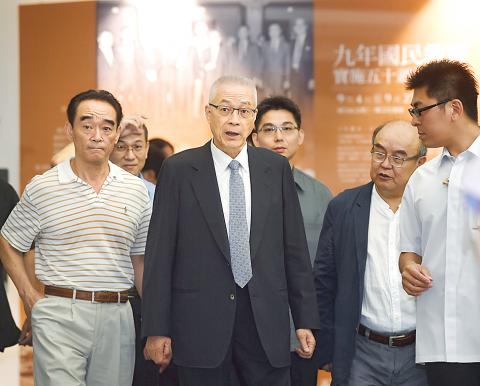 Chinese Nationalist Party (KMT) Chairman Wu Den-yih, second left, visits an exhibition at National Sun Yat-sen Memorial Hall in Taipei yesterday.
Photo: Fang Pin-chao, Taipei Times
A white seal wearing the KMT emblem placed second, while a white lion with the KMT emblem as its head was third.
When reporters asked him to explain which part of the winning design he did not like, Wu Den-yih said there was no need to explain why something does not "look good," just like a person would not need to explain why another person looks "composed."
The design contest was only for the party's primary elections, and as the KMT has many good logos, it would not need to use a new one, he said.
The department earlier defended short-listing Wu Ching-ping's design after some netizens said the "blue worm" was a direct reference to the "blue maggot" (藍蛆) term some critics use for KMT supporters, while others said that the design conveyed the image that the KMT was a "parasite."
The mascot competition was one of five contests the department organized to give young people a platform, department director Weng Shao-hui (翁紹輝) said, adding that they have served their purpose.
Whether a person likes a mascot design is very subjective, he said.
Additional reporting by Stacy Hsu and CNA
Comments will be moderated. Keep comments relevant to the article. Remarks containing abusive and obscene language, personal attacks of any kind or promotion will be removed and the user banned. Final decision will be at the discretion of the Taipei Times.