FEATURE: Hall honors democracy pioneer
EARLY ADVOCATE: Yang Chao-chia campaigned for Taiwanese home rule and infrastructure development, including the West Coast Line and electric lighting
People who wish to gain a better understanding of the nation's democratization could consider visiting the Yang Chao-chia Memorial Hall (楊肇嘉先生紀念館) in Taichung.
The memorial hall dedicated to Taiwanese democracy forerunner Yang Chao-chia (楊肇嘉) has opened at Taichung Municipal Cingshuei Elementary School's Japanese colonial-era dormitories.
The memorial hall opened in March after the Taichung City Government last year renovated the dormitories and set aside two buildings for its use.
Bronze busts of Yang Chao-chia, left, and his wife are displayed in the Yang Chao-chia Memorial Hall at Taichung Municipal Cingshuei Elementary School on Sunday.
Photo: CNA
Yang was born in 1892 in what is today Taichung's Cingshuei District (清水), school principal Huang Mei-ling (黃美玲) said, adding that he attended the school, then known as Nioumatou Public School (牛罵頭公學校).
Yang later traveled to Tokyo for further education on a recommendation from then-principal Takayoshi Okamura, before returning to Taiwan to teach at Nioumatou, she said.
He was a tireless advocate for Taiwanese home rule and economic development, and became the head of the Taiwan Local Autonomy Alliance (台灣地方自治聯盟), she added.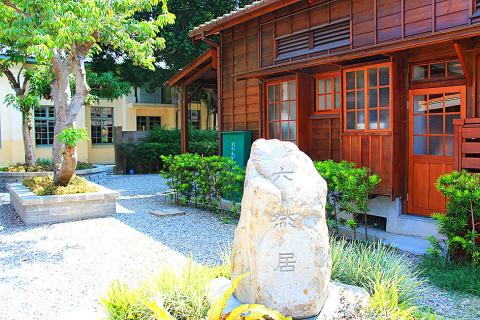 An inscribed rock stands in the garden of the Yang Chao-chia Memorial Hall at Taichung Municipal Cingshuei Elementary School on Sunday.
Photo: CNA
Yang served as Cingshuei's street warden and advocated building the West Coast Line railway, electric lighting and other infrastructure projects, Huang said.
In 1926, Yang again traveled to Japan to study at Waseda University, where he became the representative in Japan of democracy pioneer Chiang Wei-shui's (蔣渭水) Taiwan People's Party, she said.
During that stay in Japan, Yang engaged in talks with the Japanese government and made 15 demands of the colonial regime, including the implementation of Taiwanese home rule, she added.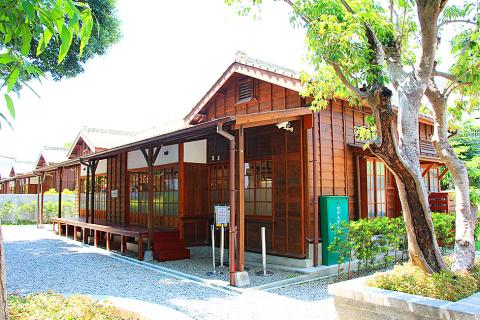 Trees shade the entrance of the Yang Chao-chia Memorial Hall at Taichung Municipal Cingshuei Elementary School on Sunday.
Photo: CNA
Due to Yang and his cohorts' efforts, Japan's governor-general of Taiwan in 1935 decreed the institution of home rule by Taiwanese, which — while short of true autonomy or democracy — was a milestone in the forming of a Taiwanese consciousness, Huang said.
In 1950, after the end of World War II and the retreat from China to Taiwan of the Chinese Nationalist Party (KMT), the then-KMT regime decreed limited self-government, and Yang became involved in organizing elections, she said.
Yang in 1962 became an adviser to Chiang Kai-shek (蔣介石), Huang said, adding that he died in 1976 at his home in Cingshuei aged 85.
The memorial hall is divided into three core sections.
The Liuran (六然) section, named after the home in which Yang resided later in life, features his biography and the history of the school and the renovation project, Huang said.
The Hope section, named after Yang's famous speech "My Hopes," narrates his vision for Taiwanese home rule, while the Art and Culture section focuses on Yang's contributions to education and literature, she said.
In addition to artifacts, the memorial hall has interactive displays; memorial stamps; a scale model of Taiwan's first privately made and owned airplane, Kaohsiung; digital postcards; and games, she added.
Cingshuei Elementary School is a historic institution that began as a branch of a Chinese-language school in 1897 during the Japanese colonial era.
The following year, it became an independent public school and was renamed Nioumatou Public School. It was renamed Cingshuei First Public School in 1921.
In 1935, the school was relocated to its current location and many structures in the school's horseshoe-shaped classroom and dormitory complex have been recognized as municipal historical and cultural heritage sites.
The structures, built from 1934 to 1940, feature a blend of Japanese and Western architectural styles, as well as classical Japanese interiors of wood and paper compartments and tatami floors.
Comments will be moderated. Keep comments relevant to the article. Remarks containing abusive and obscene language, personal attacks of any kind or promotion will be removed and the user banned. Final decision will be at the discretion of the Taipei Times.