Military police to buy 445 Kestrel missile launchers
DEFENDING TAIPEI: The shoulder-launched systems are lightweight and mobile, making them difficult to target in an urban environment, an unnamed defense official said
The Military Police Command plans to buy 445 indigenously designed Kestrel missile launchers to defend the capital against assaults by China's People's Liberation Army (PLA), sources said on Monday.
Purchases would be spread over two years from next year and the missile launchers would be issued to military police units garrisoned in the Taipei metropolitan area, especially those guarding the Boai Special District (博愛特區), which is home to several ministries and other government buildings, they said.
The Kestrel missile launcher is a disposable, single-shot, shoulder-launched weapon system that fires either a high-explosive anti-tank warhead to engage vehicles with light to medium armor, or a high-explosive squash head to use against buildings.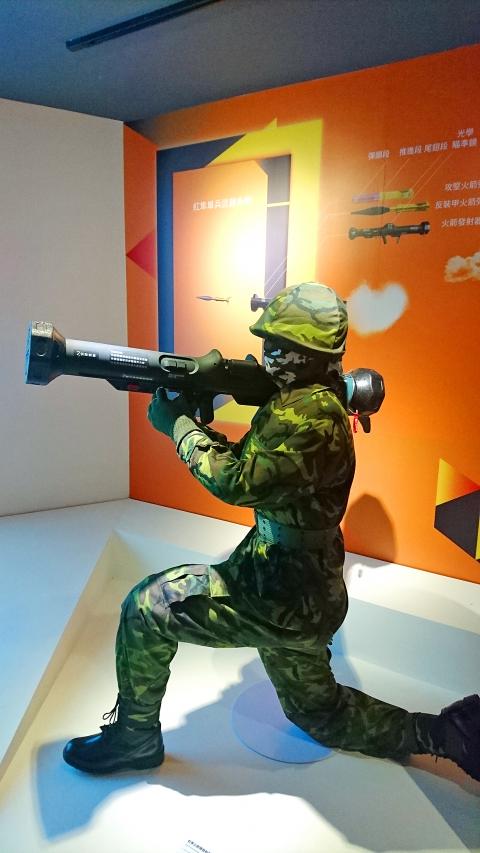 A Kestrel shoulder-launched missile system developed by the Chungshan Institute of Science and Technology is exhibited on March 30.
Photo: Lo Tien-pin, Taipei Times
Thus far, the version of the weapon developed by the Chungshan Institute of Science and Technology has only been issued to the marine corps.
The purchase would enable military police to better defend Taipei against decapitation strikes, such as airborne, airmobile or special operations assaults, by the PLA, a defense official said on condition of anonymity.
With the missile launchers, the military police could launch mobile counterattacks in urban combat and retake crucial governmental structures, the official said.
The lightweight weapons could be deployed in high-rises or transported in vehicles, making them difficult to counter in an urban environment, the official added.
To bolster the capital's defenses, the military has garrisoned an additional marine battalion at the Fuxinggang (復興崗) military base in Taipei and formed the Quick-Reaction Company at the 202nd Military Police Regional Command, the official said.
Asked to comment, the Military Police Command confirmed that it plans to buy the Kestrel missile launchers to defend Taipei.
Anti-armor weapons could engage various hostile vehicles and high-value targets, disrupt tactical formations, sap morale, delay troop movements and shatter the enemy's will to fight, the command said.
Comments will be moderated. Keep comments relevant to the article. Remarks containing abusive and obscene language, personal attacks of any kind or promotion will be removed and the user banned. Final decision will be at the discretion of the Taipei Times.