Justice commission requests NT$160m
SALARY CALCULATIONS: A party assets committee member said that the NT$30 million earmarked for salaries did not mean each of its 25 members would be paid NT$1 million
The Transitional Justice Commission has submitted its fiscal 2019 budget for legislative review, with items including overseas travel expenses to research transitional justice.
Budgets for all departments were submitted last week, with the Legislative Yuan scheduled to discuss them when it convenes this month.
The commission's proposed budget of NT$160 million (US$5.21 million) includes NT$24.32 million for work related to the reconstruction of historical facts, NT$15.19 million for the elimination of authoritarian symbols, NT$23.17 million for reparations for judicial abuses and NT$18.95 million to rebuild public trust.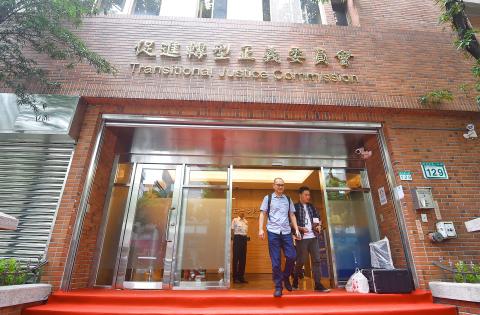 People leave the Transitional Justice Commission's offices in Taipei on May 31.
Photo: Liao Chen-huei, Taipei Times
A budget of NT$3.65 million was proposed for travel expenses related to the commission's work, it said, adding that visits are planned to South Africa, the Czech Republic, Slovakia and Argentina, among others.
Among places to be visited are the Constitutional Court of South Africa, South Africa's Institute for Justice and Reconciliation and the Argentine Supreme Court, which the commission hopes will help it understand the working of transitional justice laws and to apply the ideas in Taiwan, commission members said.
The commission has 70 members, including 51 regular committee members, nine supervisory staff members and 10 temporarily transferred employees.
Labor expenses are expected to be NT$58.23 million for next year.
Operational expenses would be NT$6.7 million, with one commission member each building one case file related to a political issue from 1945 to 1991.
The Ill-gotten Party Assets Settlement Committee also submitted a fiscal 2019 budget, requesting NT$52.9 million.
The committee has frozen NT$72.5 billion in allegedly ill-gotten assets held by the Chinese Nationalist Party (KMT) and its affiliated organizations, which Premier William Lai (賴清德) has said is one of the administration's four major achievements.
The committee is to employ 25 members, whose combined salaries for 2019 are budgeted at NT$30.68 million, the committee said.
"The assets committee's budget is extremely low, even lower than the Ministry of National Defense's budget for maintaining Chiang Kai-shek's (蔣介石) Cihu Mausoleum (慈湖陵寢)," a committee member said, speaking on condition of anonymity.
The member said they hoped the public would not think the estimated labor expenses mean that each member would earn more than NT$1 million on average.
That would be unfair to junior committee members, they said, adding that if the committee encounters more organizations that need to be investigated, then it would not have enough employees to handle the case load.
The "small increase" in the committee's budget this year over that submitted last year is due to the unavailability of alternative service conscripts next year, as well as a planned trip to Germany to learn about effective measures to investigate and handle ill-gotten assets, they said.
Comments will be moderated. Keep comments relevant to the article. Remarks containing abusive and obscene language, personal attacks of any kind or promotion will be removed and the user banned. Final decision will be at the discretion of the Taipei Times.