Poll says Ko Wen-je most popular in Taipei mayoral race
Taipei Mayor Ko Wen-je (柯文哲) is leading the Taipei mayoral race, with a 33.43 percent support rate, according to a poll published yesterday by the Chinese-language Liberty Times (the Taipei Times' sister newspaper).
The poll found that Ko, an independent, had the highest support rate, followed by Chinese Nationalist Party (KMT) candidate Ting Shou-chung (丁守中) at 24.71 percent, Democratic Progressive Party (DPP) candidate Pasuya Yao (姚文智) at 14.9 percent and independent Li Hsi-kun (李錫錕) at 2.35 percent, while 24.61 percent of respondents did not express an opinion.
The poll found that 55.59 percent of the respondents expect Ko to be re-elected, 11.08 percent expect Ting to win, 5.88 percent expect Yao to win and 0.39 percent expect Li to win, while 27.06 percent had no opinion.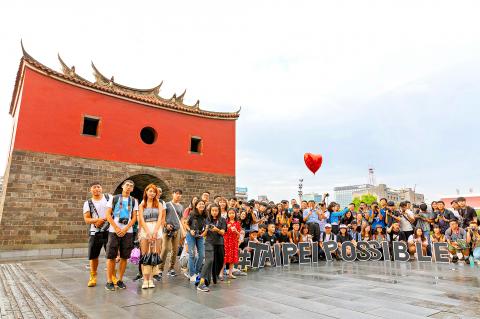 Taipei Mayor Ko Wen-je, below balloon, poses for a selfie as part of an InstaMeet social media activity at the North Gate Plaza in Taipei yesterday.
Photo: CNA
The poll was conducted from Wednesday to Friday through a telephone survey of adult Taipei residents. It collected 1,070 valid responses and had a margin of error of 3 percentage points.
Ko said the poll results are only a reference.
Asked whether he thinks the increase in independent candidates running for Taipei city councilor this year — 27 compared with 10 in the previous election — was influenced by his "white force," Ko said it reflects the social atmosphere, in which the number of swing voters is continuing to grow.
"White force" was a term coined by Ko's campaign team during the 2014 mayoral election in reference to his role as an independent candidate.
Ko's campaign team began issuing an "approval card" last year for city councilor candidates to sign if they want to be photographed with him, which includes a declaration of 16 political values.
DPP Taipei City Councilor Wang Shih-chien (王世堅) on Thursday issued a free "Ko hater card," with "Ko Wen-je is Pinocchio" printed on it.
As of yesterday, 2,000 cards had been requested and given out, Wang said.
Ko said he did not care about the card, while rejecting rumors that he plans to ensure that Wang loses by supporting other candidates in the same constituency.
Comments will be moderated. Keep comments relevant to the article. Remarks containing abusive and obscene language, personal attacks of any kind or promotion will be removed and the user banned. Final decision will be at the discretion of the Taipei Times.