Ko Wen-je refuses to sign Olympic name-change bid
Taipei Mayor Ko Wen-je (柯文哲) yesterday refused to sign a referendum petition to change the name the nation would use at the 2020 Tokyo Olympics from "Chinese Taipei" to "Taiwan," saying that he respects the campaign, but as he is the head of a local government, he would refer to the central government's stance on the issue.
Ko, who has been taking public buses to Taipei City Hall in the morning since October last year to help promote the use of public and sustainable transport, was approached by a man wearing a blue vest reading: "Team Taiwan Campaign for 2020 Tokyo Olympics."
"Mayor, are you willing to sign the petition?" the man asked as he tried to approach Ko at a bus stop, but was blocked by three bodyguards who accompany the mayor on his way to work. "Mayor, do you have any thoughts on this issue?"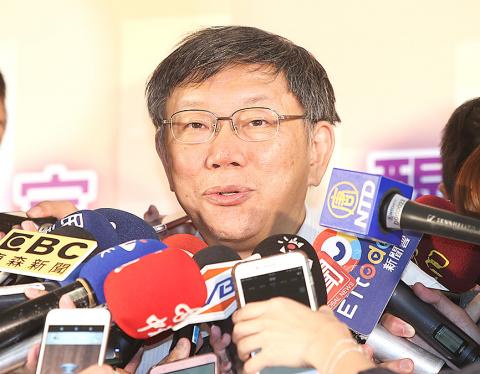 Taipei Mayor Ko Wen-je speaks to reporters at a news conference in Taipei yesterday.
Photo: CNA
The name rectification campaign, led by a group of civic organizations, was launched in January and passed the first-stage threshold in March. It is now in its second phase, which requires at least 281,745 signatures.
The Central Election Commission has said that proposals should be submitted by Friday to have the best chance of being on ballots in the nine-in-one local elections on Nov. 24.
In response to media inquiries over why he refused to sign the petition, Ko said: "Tolerance is the basis of freedom, but personal freedom is limited to not interfering with other people's freedom, so while people have the right to express their political ideas, they also have the right to not express them."
"I am willing to respect the 2020 Tokyo Olympics name rectification campaign, but I do not like being forced or to encounter people who want others to express their political ideas and do so with loud demands," Ko said. "Frankly speaking, I really dislike this kind of behavior."
Being mayor of the capital, he would refer to the central government's stance on the issue, especially because it involves diplomatic matters — before making any decision, he said.
Comments will be moderated. Keep comments relevant to the article. Remarks containing abusive and obscene language, personal attacks of any kind or promotion will be removed and the user banned. Final decision will be at the discretion of the Taipei Times.