Poll finds strong dislike of 'Chinese Taipei' name
TIME TO SWITCH? Sixty-five percent of respondents favor the nation's team using 'Taiwan' at the 2020 Olympics in Tokyo, the Taiwanese Public Opinion Foundation said
More than half of the respondents to a poll last week said they do not like the nation being referred to as "Chinese Taipei," and even more said they support using "Taiwan" for the 2020 Tokyo Olympics team, the Taiwanese Public Opinion Foundation announced yesterday.
Asked how they feel about Taiwan being called "Chinese Taipei" in global events, 51.9 percent of respondents said they do not like it, while 37.4 percent said they did like it, the poll found.
As for the idea of using "Taiwan" at the 2020 Tokyo Olympics, 65 percent of respondents voiced support, while 26.4 percent did not, the poll showed.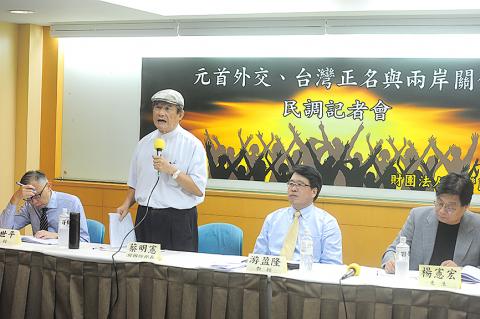 Taiwan United Nations Alliance chairman Michael Tsai, second left, speaks at a news conference held by the Taiwanese Public Opinion Foundation yesterday in Taipei.
Photo: Wang Yi-sung, Taipei Times
Asked about President Tsai Ing-wen's (蔡英文) performance, 33.3 percent of the respondents said they agree with her handling of national affairs, foundation chairman You Ying-lung (游盈隆) told a news conference in Taipei, adding that the numbers were basically unchanged from previous surveys.
Just over half (50.2 percent) said Tsai's nine-day visit to Paraguay and Belize, with two stopovers in the US, has helped elevate the nation's global presence, which was a significant increase of nearly 10 percentage points compared with respondents' perception about her visit to Eswatini in April, You said.
Asked about Premier William Lai's (賴清德) performance, 41.7 percent of respondents liked it, while 44.8 percent did not, the first time more people disapproved of him than approved, the poll found.
Taiwan United Nations Alliance chairman Michael Tsai (蔡明憲), who took part at the news conference, said more Taiwanese have signed a petition backing the use of the name "Taiwan" at the 2020 Tokyo Olympics after a series of Chinese bullying incidents.
Those incidents include the Taichung City Government's loss of the right to host the first East Asian Youth Games due to Chinese pressure and Chinese netizens launching a boycott of Taiwan-based bakery chain 85?C after Tsai Ing-wen visited a branch in Los Angeles, California, on Aug. 12.
The poll also found the approval ratings of the Democratic Progressive Party and the Chinese Nationalist Party (KMT) tied for the first time, at 24.5 percent, You said.
Tsai Ing-wen's cross-strait policy is more pragmatic than idealistic, but she should display more idealism if she wants to win more respect from the public, he added.
While her administration has made some progress in promoting its New Southbound Policy and an independent national defense industry, she has yet to increase the national defense budget to 3 percent of the nation's GDP as promised, Michael Tsai said.
She has not paid enough attention to seeking the perpetrators of the 228 Incident and in realizing transitional justice, he added.
The poll, conducted by the Focus Survey Research, collected 1,074 valid samples through telephone interviews on Monday and Tuesday last week, and has a margin of error of 2.99 percentage points.
Comments will be moderated. Keep comments relevant to the article. Remarks containing abusive and obscene language, personal attacks of any kind or promotion will be removed and the user banned. Final decision will be at the discretion of the Taipei Times.