Belize welcomes Tsai with honor, helicopter fly-by
President Tsai Ing-wen (蔡英文) was on Thursday decorated by Belizean Governor-General Colville Young — the representative of the country's head of state, Queen Elizabeth II — in recognition of Tsai's outstanding leadership and contributions to the friendship between Taiwan and Belize.
Speaking at a ceremony held at the Museum of Belize, Tsai said that the honor was symbolic of the firm relations between the two countries and is a token of recognition of the development of their partnership.
For most of the past 30 years, Taiwan and Belize have maintained close cooperation in the infrastructure, agriculture, public health, culture, education and telecommunication spheres, Tsai said, adding that she hopes that the two countries will continue to expand two-way ties based on the that foundation.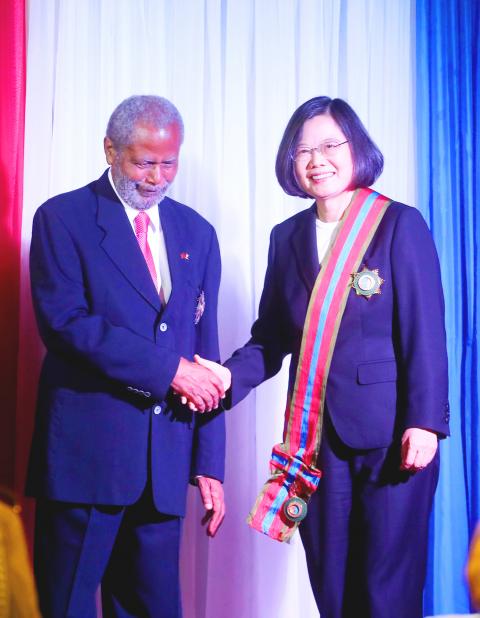 President Tsai Ing-wen, right, yesterdayshakes hands with Belizean Governor-General Colville Young at a decorating ceremony held at the Museum of Belize.
Photo: CNA
Tsai also thanked Young for his backing of Taiwan's bids to take part in international organizations and urged him to continue supporting Taiwan to enable the two countries to make greater contributions to the world.
Earlier on Thursday, Tsai flew into Belize from Paraguay, where she attended the inauguration of Paraguayan President Mario Abdo Benitez in the capital, Asuncion, on Wednesday.
Tsai was greeted at the airport by Young and a military salute that included an airplane and two UH-1 helicopters flying over the ceremony in formation.
Taiwan donated the helicopters to Belize in April 2016 for humanitarian assistance and rescue missions, Presidential Office spokesman Alex Huang (黃重諺) said.
Tsai later had her picture taken by the front door of the Taiwanese embassy, located at No. 1 Taiwan Street in Belize City.
The name of the street was in January changed to include "Taiwan" by former Belize mayor Darrell Bradley in a gesture to highlight the close relationship between the city and the embassy.
Tsai also hosted a ceremony to award scholarships provided by the government to Belizean students.
More than 200 students from Belize are now serving their country after graduating from universities in Taiwan, Tsai said, encouraging the awardees to experience Taiwan's diverse cultures and introduce Belize's culture to Taiwanese.
Tsai is to return to Taiwan on Monday, concluding a nine-day visit to Paraguay and Belize — her fifth overseas trip since taking office in May 2016.
Comments will be moderated. Keep comments relevant to the article. Remarks containing abusive and obscene language, personal attacks of any kind or promotion will be removed and the user banned. Final decision will be at the discretion of the Taipei Times.