US DEA plans to open office in Taipei: official
The US Drug Enforcement Administration (DEA) plans to establish an office in Taipei to promote exchanges with local law enforcement agencies, a US narcotics official said on Tuesday.
Phillip Esch, narcotics attache for the DEA Hong Kong Special Administrative Region Office, made the announcement at a two-day international workshop on combating transnational crime and forensic science that opened in Taipei on Tuesday under the US-Taiwan Global Cooperation and Training Framework.
The DEA hopes the proposed Taipei office will help enhance cooperation between law enforcement agencies, and that the two sides will be able to further exchange information on cross-border crime, Esch said.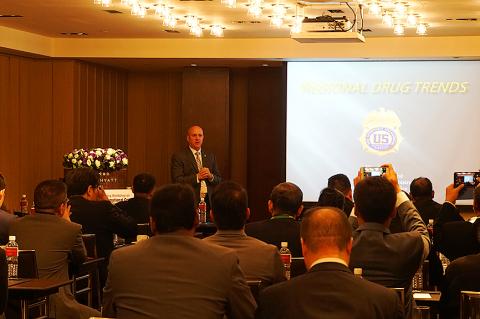 Phillip Esch, narcotics attache for the US Drug Enforcement Administration's Hong Kong Special Administrative Region Office, speaks at a forum in Taipei on Tuesday.
Photo: Hsieh Chun-lin, Taipei Times
However, the date for establishing the office has yet to be determined, he added.
According to the DEA Web site, the agency has 86 foreign offices in 62 nations, 14 of which are in the Far East, including Hong Kong, the Philippines, Singapore and Australia.
The Taipei workshop was cohosted by the Ministry of Foreign Affairs, the Ministry of Justice's Investigation Bureau and the American Institute in Taiwan.
Representatives from 16 nations on three continents attended the event to discuss how to deepen international cooperation and combat cross-border crime, the foreign ministry said.
Comments will be moderated. Keep comments relevant to the article. Remarks containing abusive and obscene language, personal attacks of any kind or promotion will be removed and the user banned. Final decision will be at the discretion of the Taipei Times.