Rules proposed to curb imports of waste
The Environmental Protection Administration (EPA) yesterday proposed new regulations to curb imports of waste plastic and paper, as the amount has soared since China implemented a ban on such imports in January.
The Chinese State Council in July last year announced a ban on imports of 24 types of solid waste, including plastics and textiles, unsorted paper and mining slag. The rules came into force at the beginning of this year.
The ban "will send shockwaves around the world," Greenpeace East Asia said in December last year, adding that in 2012, up to 56 percent of global exported plastic waste went to China.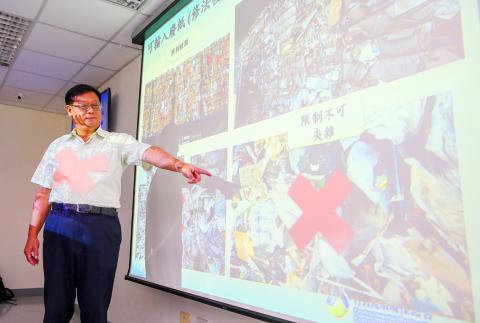 Environmental Protection Administration Deputy Minister Chang Tzi-chin speaks at a news conference in Taipei yesterday.
Photo: CNA
Taiwan has felt the effects of the ban, as countries including Japan, the US, the UK, Philippines, Mexico and Germany began exporting waste to Taiwan, EPA Department of Waste Management Director-General Lai Ying-ying (賴瑩瑩) told a news conference in Taipei.
The amount of imported waste plastics over the first six months was about 2.5 times more than in the same period last year, while the amount of imported waste paper — despite not increasing greatly — exceeded 150,000 tonnes in March, Lai said.
Domestic firms do not need to apply for government approval to import waste plastics and paper, because they can be used as industrial materials, but with the increasing volumes, the quality has degraded, while prices for domestic recycled waste have plunged, she said.
To protect the nation's economy and environment, the EPA proposed amendments to the Regulations Governing Business Wastes Used as Industrial Materials (屬產業用料需求之事業廢棄物), which would restrict imports and regulate importers.
Local firms can only import waste plastics that originate from their own overseas production processes and waste paper that is non-bleached kraft paper, corrugated paper or cardboard, the agency said, adding that nothing should be mixed with other waste.
Only firms that have a license are allowed to import waste for industrial use, it said.
Among the proposed changes are rules to push firms to purchase domestic wastes first and to ensure that imported waste is of an acceptable quality, EPA Deputy Minister Chang Tzi-chin (張子敬) said.
The announcement comes with a 60-day notification period, the agency said, adding that it would hold hearings to gather opinions.
The new regulations should come into effect in October at the earliest, it said.
Comments will be moderated. Keep comments relevant to the article. Remarks containing abusive and obscene language, personal attacks of any kind or promotion will be removed and the user banned. Final decision will be at the discretion of the Taipei Times.