Taiwan, China family, but not politically: Ko
NON-CONFRONTATION: The mayor said he does not support Taiwan and China talking tough to each other, but the nation should still bolster its defense capability
Taipei Mayor Ko Wen-je (柯文哲) yesterday said that his discourse on cross-strait relations has always been clear and his statement that "the two sides of the [Taiwan] Strait are one family" remains his fundamental stance.
Wu Tsu-chia (吳子嘉), a commentator who runs news Web site my-formosa.com, on Saturday said that Ko's discourse on cross-strait relations has been vacillating and lacks a "fundamental spirit."
When asked by reporters to comment on Wu's remarks, Ko said: "My attitude toward cross-strait relations is very certain."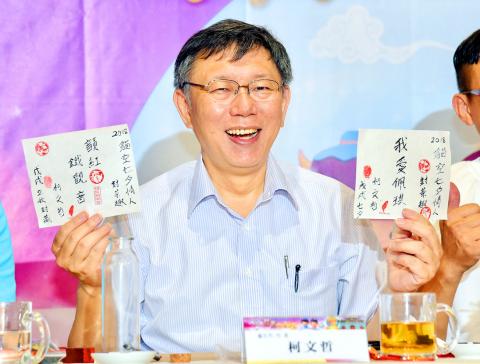 Taipei Mayor Ko Wen-je attends an event at the city's Zhinan Temple yesterday.
Photo: Huang Yao-cheng, Taipei Times
Many have criticized him for meeting with politicians from different camps, and he used to wonder why, but he has now reached an answer, Ko said.
"I worked at intensive care units and emergency rooms as a doctor, and doctors have a trait: We never get to choose our patients," Ko said. "We cannot ask patients to come in only if they are affiliated with the Chinese Nationalist Party [KMT] or Democratic Progressive Party."
He has no difficulty speaking with politicians from the pan-blue or the pan-green camps, Ko said, adding that having "practical dialogues" is his specialty, because his experience as a surgeon has made him practical and willing to listen to different opinions.
"The statement that 'the two sides of the [Taiwan] Strait are one family' is still a fundamental element [of my cross-strait discourse] for the time being. It does not pertain to politics, but rather to cultural and economic exchanges, as well as exchanges between private actors and between cities," he said.
"The nation's future cannot rely on others' friendliness toward us, so economic capability and national defense must be bolstered while expressing our friendliness," Ko said.
"I do not advocate the two sides of the Strait talking tough to each other and causing relations to become more tense, which is what we see now and I do not think that is a good situation," he added.
Separately yesterday, Ko presented two new spokespeople for his campaign office for the Nov. 24 nine-in-one local elections.
Tsai Chun-wei (蔡峻維) and Yang Sheng (楊笙) are both in their 20s and were chosen through an open audition, Ko said.
Tsai and Yang are to first work as interns alongside office spokesman Lin Hsiao-chi (林筱淇) and Taipei Mayoral Office spokesman Lin Kun-feng (林昆鋒), who is to leave his post and join the campaign team as head spokesman next month, the office said.
Comments will be moderated. Keep comments relevant to the article. Remarks containing abusive and obscene language, personal attacks of any kind or promotion will be removed and the user banned. Final decision will be at the discretion of the Taipei Times.