Kinmen-China ferries set monthly record in July
The number of ferry passengers traveling between Kinmen and China's Fujian Province reached a monthly record of 170,893 last month, the Kinmen County Government said.
The total number of arrivals and departures was 22,985 more than the number in July last year, or a 15.5 percent growth, officials said, citing National Immigration Agency statistics.
A total of 32,463 Chinese visitors last month used ferry services to travel to Kinmen, a 14.8 percent increase over the 28,275 arrivals registered in July last year, they said.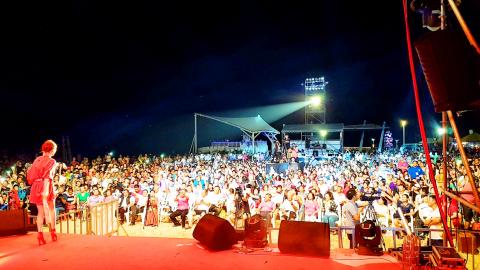 Revelers attend the 2018 Quemoy International Music Festival in Kinmen County in an undated photograph.
Photo courtesy of the Kinmen County Government
During the first seven months of this year, 1,052,257 visitors arrived at and departed from Kinmen via ferry, up 6.1 percent from the 991,540 who did so over the same period last year, the officials said.
Of those arrivals over that period, 207,584 were Chinese, an 11.9 percent increase over last year's 185,458.
The Kinmen Recreation and Tourism Department attributed the growth in inbound and outbound ferry travelers to a series of summer activities hosted by the county government, such as the Quemoy International Music Festival and the annual Open Water Swimming Competition between Kinmen and Xiamen, which are popular among young adults and sports buffs.
Family tours between Kinmen and Xiamen, and summer camps in Kinmen for Chinese students have also helped boost ferry travel between the two sides of the Taiwan Strait, it said.
Kinmen is to hold more events for teenagers from Kinmen and Xiamen this year with the aim to create a role model for cross-strait tourism, tourism department head Chen Mei-ling (陳美齡) said.
Comments will be moderated. Keep comments relevant to the article. Remarks containing abusive and obscene language, personal attacks of any kind or promotion will be removed and the user banned. Final decision will be at the discretion of the Taipei Times.