Tsing Hua team produces hydrogen using polymers
HOLY GRAIL: The US, China and Japan are vying to develop methods to replace fossil fuels with hydrogen, and Taiwan should also make it a strategic priority, the team leader said
Researchers at National Tsing Hua University (NTHU) have developed a hydrogen generation technique using visible light and semiconducting polymer dots that could help turn hydrogen into an alternative energy source.
NTHU Department of Chemical Engineering assistant professor Chou Ho-hsiu (周鶴修) and his team on July 13 published their findings in the journal ACS Catalysis in a paper titled "Design and Synthesis of Cycloplatinated Polymer Dots as Photocatalysts for Visible-Light-Driven Hydrogen Evolution."
Hydrogen is regarded as a green fuel, as its combustion only produces water and heat, and finding methods to generate it using sunlight and water is a crucial goal of the US Department of Energy, Chou said.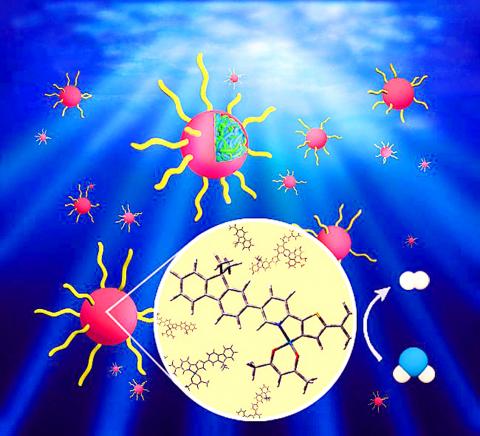 An illustration shows a semiconducting polymer dot that could help convert water to hydrogen using visible light.
Photo provided by Chou Ho-hsiu
Most techniques use methane — the main component of natural gas — to produce hydrogen, emitting carbon dioxide in the process and contributing to global warming, he said.
Such techniques also use transition metals as cocatalysts to increase the efficiency, but the metals often produce toxic elements in the process, team member Chang Chih-li (張之勵) said.
After experimenting with different techniques over the past year, the team found that semiconducting polymer dots increase efficiency without releasing toxic elements, Chang said.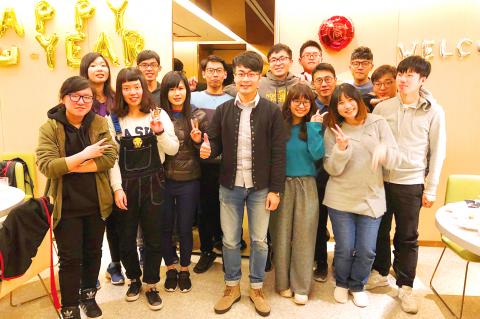 National Tsing Hua University Department of Chemical Engineering assistant professor Chou Ho-hsiu, front center in a black jacket, and his team pose at the university in an undated photograph.
Photo courtesy of Chou Ho-hsiu
They designed a series of cycloplatinated polymer dots and introduced metal cocatalysts into polymer dots that are of low toxicity, overcoming the problem that toxic cocatalysts cannot be recycled, Chou said.
Polymer dots could be recycled and become part of a circular economy, and they could also be applied to in the production of hydrogen through electrolysis of water or by using inorganic compounds, he said.
The team is planning to patent its technique in Taiwan and the US, Chou added.
Many countries, including the US, Japan, Germany and China, have plans to use hydrogen energy to gradually replace fossil fuels, including natural gas and oil, he said.
Domestic research on the use of hydrogen in the energy system should be elevated to the level of national strategic considerations, helping Taiwan position itself in the global race for hydrogen energy technology, Chou added.
Comments will be moderated. Keep comments relevant to the article. Remarks containing abusive and obscene language, personal attacks of any kind or promotion will be removed and the user banned. Final decision will be at the discretion of the Taipei Times.