KMT opens public vote to select new party mascot
The Chinese Nationalist Party (KMT) yesterday closed a contest to select a party mascot for November's nine-in-one local elections as part of the KMT Youth Department's efforts to engage with young people of voting age.
The Youth Department in June began accepting entries from the public and said that it received 108 valid submissions, most of which are blue and contain elements of the KMT emblem or the Republic of China (ROC) flag.
Two judges chose a shortlist of 10, with the top three to be chosen via a Facebook poll and street poll.
Designer Lin Hou-chin sits next to his entry for the Chinese Nationalist Party's (KMT) competition to select a party mascot for Nov. 24 local elections.
Photo: Chien Jung-fong, Taipei Times
Department director Weng Shao-hui (翁紹輝) said that the designer whose mascot wins first prize will receive a cash reward of NT$50,000 and their work will be converted into an adult-size mascot.
The second and third-place winners will be awarded NT$20,000 and NT$10,000 respectively, Weng said.
"The goal is to choose a mascot that best encapsulates the KMT's spirit. It will serve as the representative of the party's brand for the elections and join candidates at campaign events," Weng said.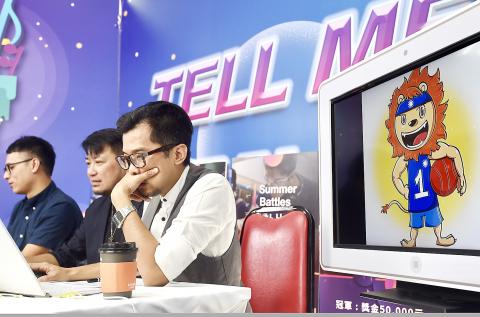 From left, Chinese Nationalist Party (KMT) Youth Department director Weng Shao-hui and designers Yang Chia-wei and Lin Hou-chin yesterday attend a news conference in Taipei to select a shortlist of 10 party mascots that are to be put to a public vote.
Photo: Chien Jung-fong, Taipei Times
As the party was established more than 100 years ago, the KMT is in need of new elements, Weng said, adding that the contest was supported by the higher echelons of the party.
"The fact that we are holding this kind of contest shows the party's willingness to accept change," he said.
In 1919, the KMT emerged from the Society for Regenerating China, a revolutionary organization established in November 1894 by ROC founder Sun Yat-sen (孫逸仙) in Honolulu, Hawaii, with the aim of overthrowing the Qing Dynasty.
The design contest is one of five competitions that the Youth Department is to hold this summer to close the gap between the KMT and younger generations, Weng said, adding that the other competitions include basketball, street dancing, singing and e-sports.
"Younger generations have a tendency to hate politics," he said. "We hope to make them hate politics a little bit less by inviting them to participate in these contests."
Comments will be moderated. Keep comments relevant to the article. Remarks containing abusive and obscene language, personal attacks of any kind or promotion will be removed and the user banned. Final decision will be at the discretion of the Taipei Times.