Children visiting nursing homes in cycling challenge
Fifteen children have begun a 10-day bicycle challenge around Taiwan proper that is to include stops in Kaohsiung and New Taipei City to provide support and comfort for elderly people there.
The riders on Monday set out from Taichung on the "Love & Hope in Taiwan: Bicyclists Charity Event Around Taiwan."
They were heading toward Kaohsiung, and then plan to ride north along the east coast before ending the tour in northern Taiwan on Wednesday next week.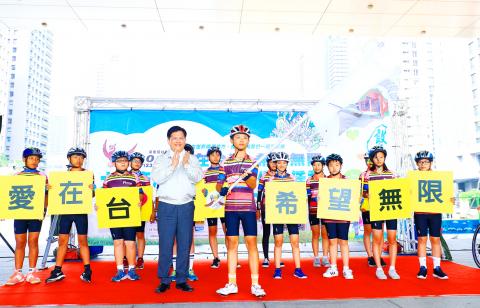 Taichung Mayor Lin Chia-lung, center left, on Monday poses with children participating in a 10-day round-the-island cycling challenge.
Photo: CNA
The children, who come from disadvantaged families, are to perform dances and give massages at the nursing homes they visit.
At the launch of the bike tour, Taichung Mayor Lin Chia-lung (林佳龍) said that the children would become stronger physically and learn perseverance thanks to the challenge.
He said he hopes that they would cultivate a sense of helping themselves and helping others while caring for senior citizens around the nation.
The challenge was organized by the Taichung City Government, along with the Taiwan Association of Women and Children.
Participants are in grades five to 10, the Taichung Social Affairs Bureau said.
One of them is a 10th-grader named Hsiao-hsiang (小祥), whose mother left home when he was little and whose father died in an accident.
Although he was a slow learner, the association helped him learn painting and develop an interest in cycling, the bureau said, adding that he is now a bicycle coaching intern and learned how to change bike tires and repair bicycles.
Comments will be moderated. Keep comments relevant to the article. Remarks containing abusive and obscene language, personal attacks of any kind or promotion will be removed and the user banned. Final decision will be at the discretion of the Taipei Times.